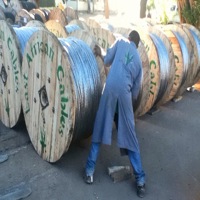 21 July 2012, Sweetcrude, AWKA – THE Standards Organisation of Nigeria, SON, in Anambra said it has impounded sub-standard electrical cables valued at over N15 million.
Briefing journalists in Onitsha, Mr Louis Njoku, Director of Enforcement of the organisation, said that the items were impounded from traders at the Electrical Dealers International Market, Obosi.
Njoku said that the cables were made of iron rather than copper, adding that copper was the type of metal used for the production of quality cables.
He said such fake products were the cause of electric faults responsible for most fire disasters.
Njoku revealed that personnel of the organisation raided more than 30 shops during the operation.
He said: "We had mopped-up hundreds of rolls of these fake cables. We have gone from one shop to another, identifying sub-standard products that are in this market; and as you can see this is an electrical market.
"We have identify some cables and we have taken charge of the cables, we have remove them because we identified they are not made of copper; particularly in question is the SunRise cable.
"And this is a continuous activity; as I am talking to you now, we are in different locations all over the country carrying out the same activity to ensure that we rid the market of sub-standard products in line with the directive of President Jonathan and the Director-General of Standards Organisation of Nigeria's vision of zero tolerance to sub-standard products."
Njoku said cables that were magnetic were faked as they would heat up when electric current flowed through them.
He added that copper cables were not magnetic and could not heat under current flow.
He continued: "I would advise Nigerians to buy made in Nigeria cables because made in Nigeria cables are constantly monitored by Standards Organisation of Nigeria and there is also the in-house and self-regulation instituted in the Nigerian cable manufacturers.
"They check themselves and report to us those of them that are involved in nefarious activities. That has been going on and that is why everybody can attest that made in Nigerian cable is the best in the World; that is one because, if you see there, they have the NIS mark on them.
"For those who want to buy imported cables; we have offices all over the federation; you are free to approach us because we have the list of those products that have been passing and particularly the SunRise cable – we have said it repeatedly – is in our black book."
However, after the raid and sensitisation of the traders to the objective of the Federal Government directive on removal of sub-standard products, an agreement was signed between SON and the market executive.
Mr. John Achukwu, Director, Testing Service in SON, said the agreement reached with the market executive was for the setting-up of an internal task-force to raid the market and bring out all sub-standard products constantly and surrender same to the agency.
"So the agreement we have reached with them, which they have signed, is to make sure that all the sub-standard products are removed from the market. This exercise we have done today is just a sample.
"We will come back again and if the sub-standard products are still found here, it means our marriage with them would not continue," he said.
Prince Benjamin Orji, Chairman of the market, said some of its members bought the fake cables out of ignorance, adding that the executive would be thorough with its task-force total cleansing of the market of sub-standard products.
It will be recalled that SON had recently impounded similar sub-standard cables valued at over N100 million from the same market.