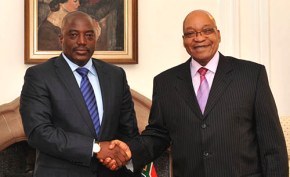 25 October 2012, Sweetcrude, CAPE TOWN – SOUTH Africa and Congo have signed a deal for the joint exploration of hydrocarbons in Congo.
The deal was signed, Tuesday, by the countries' state-controlled oil companies, Cohydro in Congo and PetroSA in South Africa, according to a statement from the foreign affairs ministers of both countries.
The chief executive officer, CEO, of PetroSA, Nosizwe Nokwe, said the deal is the first step in a cooperation on oil exploration.
The CEO said each company will assess opportunities and then decide if they make economic sense to go forward. The two haven't allotted specific amounts of money to achieve this, nor has a time frame been agreed for the cooperation. PetroSA will start by selling oil to Congo because it can buy in bulk and get a better price to sell it on to Congo, she said.
Recent oil finds in eastern Africa have spurred more exploration across the continent as countries seek to become more energy independent.