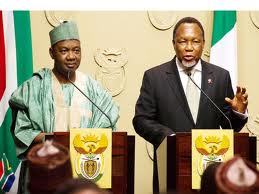 26 May 2012, Sweetcrude, CAPE TOWN – SOUTH Africa's Deputy President, Kgalema Motlanthe has said his country is looking to Nigeria for the purchase of its crude oil.
Motlanthe told newsmen in Cape Town at the signing of a Memoranda of Understanding (MOU) with Nigeria's Vice President Namadi Sambo that following the uncertainty of supply of oil from Iran, Nigeria's oil was part of the option available.
The South Africa may be forced to comply with a U.S. sanction threat on countries buying oil from Iran, from where it sources about a quarter of its oil.
"We would say to our Nigerian brothers that there will be demand for their crude oil because we don't want to source our oil from areas that are likely to be unstable.
"Indeed, we are quite confident that Nigeria will become one of our trusted suppliers of crude," he stressed.
Motlanthe said PetroSA and private traders were expected to look at supply agreements for oil from Nigeria.
South Africa's Minister of Energy Dipuo Peters last week said the government would decide on its response to the threat by the U.S. end of the month.
In his response Sambo said Nigeria was ready to offer economic support to South Africa in line with the economic cooperation between the two countries.
He said the agreement would help in strengthening and promoting the business environment in the continent's biggest economies.
The Vice President said the agreement would also enable the two countries to bring in business people from both countries to explore investment opportunities in the countries.
A Memorandum of Understanding (MOU) on economic and technical co-operation was also signed between Nigeria's Minister of Trade and Investment, Olusegun Aganga and his South African counterpart Rob Davies.
Another MOU was also signed between Aganga and South Africa's Minister of Finance Pravin Gordhan, to offer
mutual assistance in customs administration of the two countries.