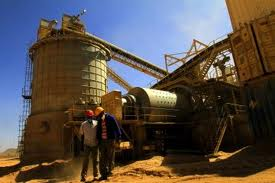 28 January 2012, Sweetcrude, KHARTOUM – South Sudan says it would be completing shut down of its production today (Saturday) after it failed to agree with Sudan on a deal to end an oil crisis.
Sudanese President Omar al-Bashir and South Sudan's President Salva Kiir met on the sidelines of a meeting of East African officials in Ethiopia.
The two discussed a deal that "would have frozen the situation and reverses the unilateral actions that had been taken by both", a source close to the talks told Reuters.
But Pagan Amum told reporters in Addis Ababa on Friday: "Tomorrow the shutdown will be complete and what will be remaining to be done the day after is finishing the cleaning and flushing of facilities."
South Sudan is shutting down its oil production, last put by officials at 350,000 barrels per day in November, to protest against Sudan seizing some southern shipments at the northern port of Port Sudan in a dispute over pipeline fees.
Both countries depend heavily on oil revenues and have put forward widely differing figures for a possible transit fee. Sudan has publicly proposed $36 per barrel, while South Sudan has listed figures under $1 per barrel.
The main operator Petrodar expects to close the key blocks 3 and 7, officials said on Friday.
Petrodar is a consortium comprising mainly Chinese firms China National Petroleum Company (CNPC), Sinopec, and Malaysian firm Petronas. Analysts estimate Petrodar's total oil output from South Sudan at 250,000 bpd.
"We have shut down almost around 250 (wells). Remaining are 390 oil wells. The programme is expected to finish in three more days. Maybe on 30 or 31 of this month all oil wells in Ada, Gumri, Moleta and Palouge will be shut down," Hago Bakheed Mahmoud, field operation manager for Petrodar, told reporters at the Palouge oil fields, according to Reuters.
He said current output was still between 145,000 and 150,000 bpd, adding that the company could resume production within three to four days. Blocks 3 and 7 provide much of South Sudan's output.
Oil Minister Stephen Dhieu Dau said the shutdown was going to plan.
"The shutdown is going well," Dhieu Dau told reporters during a visit to the Palouge oilfield in Upper Nile state. "Now 50% of the wells are off," he said, without saying whether this was referring to only Upper Nile fields or the whole country.
He spoke after the presidents of Sudan and South Sudan had met at the African Union in Addis Ababa.
He said Khartoum may have diverted some oil from the fields which lay on the southern side of the joint border to feed its refinery in Khartoum.
There was no immediate comment from Sudan, which has said it was seizing an unspecified amount of southern oil to use for its refineries in a dispute over pipeline transit fees.
Sudan has also sold at least one cargo of crude seized from South Sudan at millions of dollars discount to the official price charged by the South and is offering more, industry sources have said.