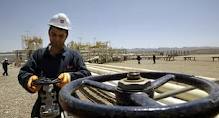 13 September 2012, Sweetcrude, JUBA – SOUTH Sudan says it will be producing at least 300,000 barrels per day of oil, or 85% of its pre-crisis output, if a successful conclusion is reached at peace talks with Sudan.
Macar Aciek Ader, under-secretary at the Ministry of Petroleum and Mining, who disclosed this, however, warned some production will not resume until mid-2013 because of damage caused during its border dispute with Sudan, according to Reuters.
"For northern Upper Nile, it may not take long because according to the information we got from the field, not much damage has been done. Hopefully it will be by the end of the year," he said.
"As for the western oil production, that is, in Unity state, there was too much damage in Heglig area, so that… may take time, up to the middle of next year."
The minister said exact production levels would depend on technical factors, but added: "One could still talk in terms of a minimum of about 300,000 barrels per day. Minimum."
South Sudan's western oil fields need to go through a processing plant at the disputed Heglig oilfield, which contribute to much of Sudan's output. Part of the facilities were damaged when South Sudan's army briefly seized Heglig during weeks of border fighting.
The landlocked African nation, which seceded from Sudan over a year ago, shut down its oil output in January during its dispute with Khartoum over how much it should pay to export crude through pipelines in Sudanese territory to a Red Sea port.
Fighting along the 1800-kilometre border threatened to boil over into a full-scale war in April when South Sudan seized an oil-producing region long held by Sudan.
South Sudanese officials had said the country was producing about 350,000 bpd before the shutdown, equivalent to about three-quarters of the formerly united country's total.
The South reached an interim deal on transit fees with Sudan last month that could open the way to resuming oil exports, but Khartoum still wants a deal to secure the disputed and volatile shared border before crude flows resume.