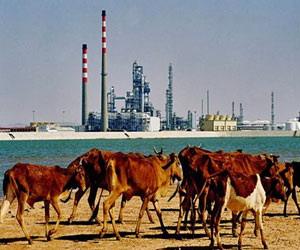 30 January 2012, Sweetcrude, KHARTOUM – South Sudan says it has finally, totally shut its entire oil production following feud with its northern neighbour, Sudan, over export transit fees.
It said it would restart production only after the two are able to reach a deal on the matter.
The shutdown was "100% complete" on Sunday, Minister of Petroleum & Mining Stephen Dhieu Dau told Reuters in Juba, South Sudan capital.
To restart pumping, he demanded seized cargoes of oil be released, stolen crude returned and for Sudan to cease support for rebel groups in South Sudan, something Khartoum denies.
"Oil production will restart when we have a comprehensive agreement and all the deals are signed," Dau told Reuters, adding any deal had to be overseen by the international community and linked to the demarcation of the border and control over Abyei.
"Sudan must recognise the 1956 border, which means they must give back all the areas under occupation," he said, referring to an internal boundary used around the time of Sudan's independence. covering border security and the disputed Abyei region.
South Sudan seceded in July under a 2005 peace deal that ended a civil war in which around 2 million people died. The possibility that war could restart over the oil dispute was a "great concern", Reuters quoted UN Secretary General Ban Ki-moon as saying.
Both sides have failed to resolve a long list of disputes including how to disentangle their oil industries, divide debt, mark the poorly drawn border and decide who should control Abyei, a region the size of Connecticut that was a major battleground during the war.
Landlocked South Sudan took about three-quarters of Sudan's oil output when it broke away, but still needs pipelines running through its northern neighbour to export crude.
The country depends on oil for about 98% of state revenues, while for Sudan, in the north, transit fees are crucial since it lost the oilfields themselves last year. That plunged it into a severe economic crisis.
South Sudan said earlier this month it would shut off its roughly 350,000 barrels per day of output after Khartoum started taking some oil in lieu of what it called unpaid fees.