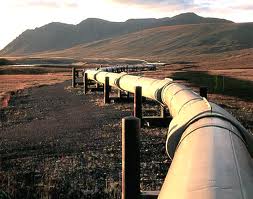 25 January 2012 , Sweetcrude, NAIROBI – South Sudan has reached a deal with Kenya to build a pipeline linking its oilfields to the Kenyan port of Lamu, close to the Somali border.
The African neighbours signed a memorandum of understanding on the project on Tuesday, Reuters reports. The newswire cited the oil-rich nation's deputy Petroleum and Mining Minister Elizabeth James Bol as saying construction should take about 11 months.
Bloomberg quoted South Sudanese government spokesperson Barnaba Marial Benjamin as saying construction will being "as soon as sources of funding are made available," which should be around month.
The issue of raising funds for the pipeline is complicated by the shutting-in of oil production last week in South Sudan in response to the perceived "theft" of its resources by Sudan to the north. Sudan has been demanding that its neighbour to the south pay $32 per barrel for crude oil shipped through its pipeline infrastructure to Port Sudan for export.
Numerous shipments have been held while other quantities have been diverted to refineries controlled by the Khartoum regime.
This drew an angry response from South Sudan with President Salva Kiir Mayardit issuing a rallying cry to the National Legislature, published on Wednesday, which said the oil crisis between the neighbours had "reached a stage which is unacceptable".
Kiir said Sudan had blocked eight shipments with a total of 6.3 million barrels of oil worth a combined $630 million. He also accused Sudan of "forcibly" taking another $185 million worth of oil. "They have completed constructing a tie-in pipeline designed to permanently divert 120,000 barrels per day, which is almost 75% of our daily entitlements, to their refineries in Khartoum." He continued: "Insomuch as the duration of revenue disruption is unknown and to ensure the continued operation of our national government and to provide for our people, we will need to find other sources of funding.
"In doing so, I have instructed the Ministry of Finance to initiate contingency plans for revenue collection and allocation. This will accelerate the increase in collections of non-oil revenues. It also will prioritize the allocation of existing revenue, allowing us to make the most of what we have.
"The Ministry of Finance will also look into other options for replacing the lost revenue. On existing cash reserves, rest assured that the government can operate for the immediate future, depending on which cuts are made." The firming up of the agreement with Kenya, which has been long mooted, is likely to harden Sudan's stance on oil from the South.
Landlocked South Sudan split from Sudan in July taking about three quarters of the previous country's roughly 500,000 barrels per day of oil production, but it still relies on Sudan's infrastructure to export crude. The two have yet to hammer out a definitive agreement on the sharing of oil revenues which has led to the unilateral action from Sudan on cargoes heading through its infrastructure for export.