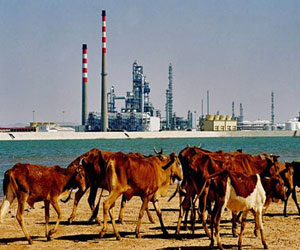 08 August 2012, Sweetcrude, KHARTOUM – SOUTH Sudan plans to restart oil production next month after last Friday's agreement with Sudan on oil export fees.
The agreement set out the conditions for South Sudan to export its crude through its northern neighbou's pipelines and is seen as an end to a crisis that South Sudan to shut in its 350,000 barrels per day output.
Pagan Amum, South Sudan's lead negotiator with Sudan at the African Union, confirmed that oil production would restart around September, but it may take a year to return to full capacity.
He said production will commence in the Upper Nile state fields which contributed to much of the country's previous output.
Amum told Reuters: "We're expecting to begin production immediately in September, especially for the Upper Nile oil, of Dar Blend," "We expect, of course, to develop the capacity in time. It will not just be an automatic thing. It will take time to open one well after the other.
"The production will begin from 150,000 (bpd)… and within three, four months, it would go to 180,000, 190,000 (bpd), and then it will go to the (old) level, and possibly higher than the time (before shutdown) within one year".
Oil is the major source of revenue for South Sudan and Sudan, accounting for 98% of the South's income.
Industry experts say it would likely take South Sudan about six months to return to full production, since its pipelines were filled with water to avoid gelling while some wells were not closed properly.