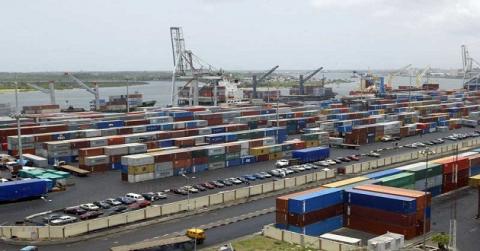 Vincent Toritseju
Lagos — A group, Sea Empowerment Research Centre has raised an alarm over the colossal financial loss from the auctioning of over 7,000 containers of abandoned cargoes in ports across the country to the tune of N300 billion.
In a statement, Head of Research of the Centre, Mr. Eugene Nweke said that an estimated financial implication for Value Added Tax, VAT, Port levy and other charges at N1million per container x 7000 TEUs (Twenty Equivalent Units) will stand at N7 billion.
Nweke also said that an estimated minimum import value (CIF) per TEU is N15m multiplied by 7000 TEU which amounts to N105b, while estimated minimum terminal & shipping charges per TEU (excluding Storage and Demurrage charges) is N650,000 multiplied by 7000 TEU which comes to N4.5 billion.
Part of the statement reads: "Relying on the prevailing benchmark value of N2m per TEU, established by the former Comptroller General of Customs, when you multiply that by 7,000TEUs it will give you N14b being a minimum payable Customs duty value only.
"Estimated minimum trucking fee is N250,000 multiplied by 7000 which amounts to N1.7 billion as against estimated Minimum Professional Handling fees at N200, 000 Per TEU multiplied by 7000, which is N1.4billion.
"Estimated minimum regulatory agency revenue is N250,000 multiplied by 7000 TEU which comes to N1.7billion.
"Estimated minimum revenue due to the government is N22.7 billion while estimated Minimum Shippers Investment Trapped is N105b, bringing the total loss to N135.3billion.
"Findings show that, 40% of the 7000 TEUs are 40ft containers as opposed to the 20ft container equivalent units used for general estimation. The implications being that the approximate financial involvement is well over N300bn.
"It could be estimated that about N100b due to the Government is at stake. Half of this or less may be recovered via auction sales.
"The development could disrupt the foreign exchange transactions as it will also lead to an additional pressure to the public by way of inflation.
"The imports are international trade requiring international business finance, wherefore Letter of credit related importations are trapped, as revalidation for subsequent trade transactions are denied or delayed.
"By extension, it contributes to the overall performance of our balance of trade (BOT) records.
"It affects the production line, and as well limits the turn around capital of the shippers.
"It hampers on the fluidity of the nation's yearly demand and supply for goods and services, thereby increasing scarcity and hunger level on the part of citizens.
"It adds up port congestion thereby putting much pressure on the shipping lines and terminal operations, which constitutes cost additional to clearance costs,
"It disrupts the nation's trade data records, when cargo is sold as auction.
"It constitutes health challenges, as the life span of laden contents are shortened if not totally expired, though depending on the product type.
Affected Importer Should come, forward a prescribed penalty and effect clearance of their cargo.
"In neighouring countries, goods that falls under this category is referred to as 'DEPO" – "a distress importation".
"Going forward, in the same consideration, the economic regulator has a duty to further consultation, and then issue an industry notice on the applicable treatments due require for such category of imports, especially the deciding the percentage to be earn by the terminal operator and shipping lines.
"In addition, factors that aides or promotes the preference for the abandonment of cargo in the port terminals or the use of port terminal as a storage warehouse on the part of the shippers should be investigated and identified and subsequent, an industry practices pronouncement via an industry notice should be published."
Follow us on twitter