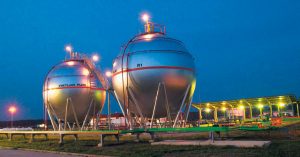 Mkpoikana Udoma
Port Harcourt — Domestic Liquefied Petroleum Gas' terminal operator, StockGap Fuels Limited, says it will expand its 15,000 metric tonnes storage facility in Port Harcourt by 50percent in 2023 and double its current capacity by 2024.
Recall that StockGap Fuels Limited made history in November 2019, when it received the first DLPG cargo from Nigeria LNG Limited Bonny Island to its gas terminal in Rumuolemini, Port Harcourt.
Prior 2019, DLPG was shipped from NLNG Limited's terminals in Bonny Island to Lagos State, and then transported back by trucks for another 12 to 20hours on the road to Rivers State and environs, as a result of lack of facility to accommodate, store and dispense gas in commercial quantity in the South-South and South-East.
The situation continued until the Chairman of Stockgap, Obiamarije Stanley, conceived and established a commercial gas terminal in Port Harcourt, the journey of gas facility which according to him, began in 2013 and was completed in 2019.
Speaking with newsmen at the sideline of an event in Port Harcourt recently, Terminal Manager of StockGap Fuels Limited, Obioma Ebisike, said already work has commenced for the expansion of its storage capacity in Port Harcourt
Ebisike said investments in gas facilities was of absolute importance if the price of cooking gas was to be brought down in the country.
According to him, the investment the firm was making in the expansion of its facilities was because of the need to improve access to DLPG and other petroleum products in Nigeria.
"Today, it is StockGap terminal that receives LPG from NLNG and then distributes gas to customers in this region. We need more terminals in places Onitsha and so on. This will lead to a crash in price of LPG."
Follow us on twitter