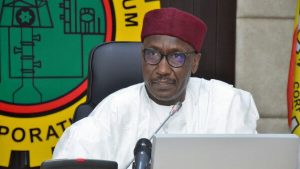 Mkpoikana Udoma
Port Harcourt — The Nigerian National Petroleum Company Limited has said that only a sustained energy sufficiency, can directly enable economic growth and development in the country, as obtainable in developed climes.
To this end, the company has announced that it remains determined to reliably deliver energy in the country, through efficient utilization of hydrocarbons and other new energy sources which the nation is blessed with.
Group Chief Executive Officer of the NNPC Limited, Mele Kyari, disclosed this at the ongoing 6th Nigeria International Energy Summit, NIES 2023, with the theme, Global Perspectives for Sustainable Energy Future.
Kyari explained that oil and gas remains a significant component of the global energy mix, therefore the country was unlocking more opportunities across both the oil and gas value chain spanning from supply and infrastructure to the markets.
He listed the major areas of the federal government support, such as the realization of key initiatives such as the Decade of Gas and the National Gas Expansion Programme, which he said seeks to deepen natural gas utilization as an alternative transportation fuel, virtual gas supply to off-pipeline grid gas customers and gas utilization as feedstock for the development of gas-based industries.
"The other is in heavy investment in critical gas infrastructure such as the Ajaokuta-Kaduna-Kano gas pipeline and the OB3 gas inter-connector to support 5billion scf/d of domestic gas utilization, including 5GW of power generation capacity by developing power plant projects along the AKK pipeline corridor and across the country to complement the existing ones.
"For the gas export market, the on-going NLNG Train 7 will expand Nigeria's LNG production capacity to about 30 million tons per annum. This is in addition to the planned Nigeria-Morocco and the Trans Sahara gas pipeline projects which will supply gas to sub-regional African countries and subsequently Europe."
Kyari also said in addition to the company's existing upstream activities, NNPCL was also deepening exploration activities in the nation's frontier basins, using the best industry standards and technologies which he said was already yielding results such as the Kolmani oil discovery.
He said NNPCL is hopeful that the recent spud-in of the Ebenyi-A in Nasarawa State will yield positive result as well.
"The 6th edition of the Nigeria International Energy Summit has provided us all with a platform to tell our story and engage further based on our unique landscape and strengths which will eventually contribute to form part of the global narrative.
"NNPC Limited will continue to leverage our partnerships with the industry, government, research institutions and the academia to ensure energy security and sustainability," Kyari said.