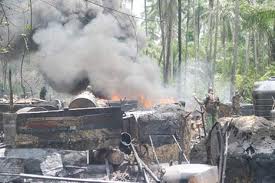 Samuel Oyadongha
18 January 2013, Sweetcrude, Yenagoa—Stakeholder Democratic Network, SDN, a pressure group in the Niger Delta, has frowned at the priority given by the Federal Government to security against crude oil theft to the detriment of the needed environmental protection action against oil spillages in the region.
SDN noted that though the activities of crude oil thieves reduces the economic earnings of the nation, the excessive focus and security actions against illegal bunkering and crude oil theft was a poor reflection of government's policy focus and sign of neglect of the people of Niger Delta by the Federal Government.
Country Coordinator of the group, Mr.  Inemo Samiama, in a statement, said SDN's position was informed by the lack of action on the KS Endeavour blowout in 2012, off the Atlantic coast of Koloama in Southern Ijaw Local Government Area of Bayelsa State.
He said: "The 2012 incident is typical of a year in which much was put in the public domain about oil spills, especially those from illegal refineries,  but too little was done to address the massive gap between Nigeria's spill record and its capacity to contain and clean up the spills.
"The most unfortunate event in 2012 was that the Chevron rig that exploded in the early hours of January 16, was attributed to gas rather than oil exploration."