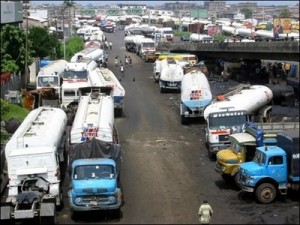 18 November 2011, Sweetcrude, Lagos – Tanker drivers in Nigeria are preaparing to withdraw their vehicles from the roads if the government makes good its plan to withdraw fuel subsidy.
Mudasiru Ayinde Azees, chairman of Petrol Tankers Drivers (PTD) in Lagos Zone, announced this to newsmen in Lagos Thursday, accusing the Jonathan administration of insensitivity to the plight of the masses, who, acording to him, formed over 90 per cent of the total population.
Mudasiru Azees noted that life had become very difficult in Nigeria because of the biting economic situation in the country and cited that as reason why government should not go ahead with the plan to remove the subsidy.
He lamented that nature had endowed Nigeria with abundance of oil resources, yet the government could not meet the yearnings and aspirations of the people.
Pointing to the deploradable condition of roads, lack of security, poor power supply, hunger in the land, poor healthcare, crumbling education system and non-resolution of societal problems facing the people, the PTD leader maintained that the Nigerian masses "were gaining nothing from the present government."
He argued that the decision to remove oil subsidy was unpopular and urged the government to rescind the decision immediately before it sets the nation ablaze.
He warned that if the government goes ahead to carry out the removal, the PTD would join other 41 industrial unions in the country in a strike that could paralyse the nation's economy.