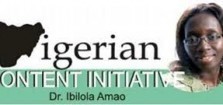 03 April 2012, Sweetrcude, Lagos – I was elated by the acknowledgement of the Chairman of Jagal that the NigerDock staff must take a lot of credit for delivering the Abang and Itut platforms which was commissioned by no other than the President of Nigeria: His Excellency Dr. Goodluck Ebele Jonathan, GCFR on March 16th 2012.
"Made in Nigeria" Abang and Itut platforms are two platforms that collect the crude oil, water and gas from at least 10 wells, combine these fluids and sends them off for processing at their host platforms. The topsides consist of 3 decks and weigh approximately 800 tonnes each. The construction involved over 2.5 million man-hours without any lost time incidents, and that the impressive performance has earned the indigenous ship builder, a prestigious safety award by Mobil. The well coordinated event must have taken a lot of effort to coordinate and there were no recorded issues or any challenges (logistics, security, confirmation of guests etc. Quite an impressive attendance was recorded with ExxonMobil – the collaborative host, Chevron, TOTAL, SHELL, captains and leaders in the industry in tow.
I kept reminding the former GMD of NNPC, Engr. Funsho Kupolukun of the humble seed he had sown when he picked out Engr. Ernest Nwapa after his Chief Officers course and arising from a laudable presentation, to set up a Nigerian Content unit in NNPC. A journey of a thousand miles began with Engr. Nwapa's first steps of trying to bring his indomitable and collaborative spirit to bear in ensuring that IOC, multinationals, indigenous players (private sector and public sector alike) come together in a give and take posture to ensure that Nigerian Content marches forward and records success after success. The NCDMB team have proven that a seed sown, if well cultivated can become a beautiful garden even before there appears a forest with time. All stakeholder in the industry have a very important role to play in ensuring that the Nigerian Oil and Gas Industry Content Development (NOGICD) Act is well implemented and we all aspire to achieve goals set in the schedules of the Act. The way forward is surely one of collaboration, coordination and cooperation. This is the fastest way to leapfrog from our agrarian activities and mentality into the ideas age. We must not despise humble beginnings but give our best at any point in time to ensure that we as a nation make progress. One other critical success factor in this regard is the continuity in government policies and pursuant of such to logical conclusion by successors.
We must also give credit to those who before us foresaw the need for knowledge and technology transfer and in 1989 signed the Nigerian National Petroleum Corporation (NNPC) / Bechtel Technology Transfer Agreement which birthed a National Engineering and Technical Company Limited (NETCO), from which many Oil and Gas leaders and professionals have emerged. Over 60% of the NCDMB team, the Group Executive Director (GED) Exploration & Production (E&P), Group Executive Director (GED) Refining & Petrochemical (R&P), Managing Director's (MD's) and General Manager's (GM) of NNPC have at one time passed through NETCO as full-time staff or enrolled in NETCO for training and empowerment. My humble self served in NETCO as a Consultant between 1992 and 2003. Those were the years when we worked hardest and did our utmost best to ensure that technology and knowledge was acquired by Nigerians.
The clear message I took away from the ceremony apart from being "proud to be a Nigerian" was that success is inevitable if we can persevere with a "Can Do" spirit. Also, every little seed that is sown towards a better and greater Nigeria must be nurtured by all as a collective responsibility and that the greatest benefactors of doing things right are the masses who would have greater opportunities for employment and benefit from the creation of wealth that adds to the betterment of our great nation Nigeria.
We should also, look out for NigerStar7, a consortium of three formidable giants (NigerDock, GlobeStar and Subsea7) who have decided to collaborate and pull resources together intelligently to record more successes that are made in Nigeria.
As, I congratulate NigerDock on a successful completion of the ExxonMobil Abang and Itut platform project and the laying of the foundation of the Skillsbase, I pray that more good news comes from the FTZ and it experiences a brighter future, especially for the well deserving staff.
About the Author
Dr. Ibilola Amao is the Principal Consultant with Lonadek Oil and Gas Consultants, a firm of technical consultants with their core competence in the area of human capital and vendor development. For more information or to reach Dr. Amao you can email her at [email protected] or visit www.lonadek.com