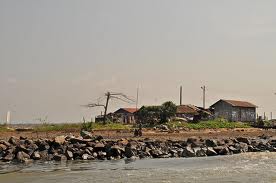 Emma Arubi
07 November 2012, Sweetcrude, WARRI—AT LEAST three persons have been confirmed dead and two others still missing at Otumara, near a Shell flow station, Warri, Delta State, following last weekend's gun attack on the community by some youths.
They were allegedly attacked on Saturday for allegedly challenging the authority of their assailants, numbering over 40, in establishing an illegal camp at Otumara.
The dead youths were identified as Gift Obazuaye who was allegedly shot dead on the spot, Andrew and Kurata, whose bodies were recovered last Monday and Tuesday respectively, and deposited at Warri Central Hospital morgue.
Ugborodo Community Trust Vice-Chairman, Mr. Isaac Botosan and Community National Youth Chairman, Mr. Julius Atete, who spoke to newsmen on the incident in the office of the Police Area Commander, said the mission of the attackers was to use the camp as a military base to launch sporadic attacks on the Otumara Gas Plant and Ugborodo community.
The leaders of the gangsters, according to Botosan, were allegedly dissatisfied with the ruling of the Olu of Warri, Ogiame Atuwatse II, who, last month resolved the leadership crisis rocking the oil rich community in favour of Chief Thomas Ereyitomi.
He said Mr. Robert Atete, whose two legs were broken by bullets, and three others were currently receiving treatment at various hospitals.
Meanwhile, a leading elder of the attacking group, Pa Daje, escaped arrest by the whiskers, Tuesday at his Iyara residence in Warri, while the Secretary of the group, Pa Francis Uwawah, has been arrested and detained by the police.