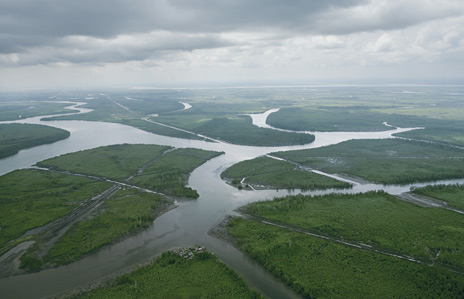 3 November 2011, Sweetcrude, Abuja – Nigeria's State Security Police said officers arrested three people allegedly responsible for an attack on an oil pipeline operated by Nigerian Agip Oil Company (NAOC), the local unit of Italy's Eni SpA, in the southern Niger River delta that caused crude spills.
The October 1 attack in Nembe Creek in Bayelsa state followed a threat by militants in the delta to resume hostilities against Nigeria's oil industry, Marilyn Ogar, a security police spokeswoman, told reporters Thursday in Abuja.
"The attack was carried out to coerce Nigeria Agip Oil Company to contract the surveillance of the pipeline to them," she said. "The suspects have made useful confessions and will soon be charged."
Violence has increased in the Niger delta, home to Nigeria's oil and gas industry, after a period of relative quiet that followed a government amnesty in 2009 and the disarming of thousands of fighters.
Royal Dutch Shell Plc said Wednesday it found 10 incidents of theft in the eastern Niger delta since the closing of output from the Imo River field on August 28. Theft in the area forced the company to shut Imo River, delaying the delivery of about 25,000 barrels of oil a day.
Gunmen on October 18 attacked a vessel supplying an offshore rig operated by Exxon Mobil Corporation's Nigerian unit in the southern Akwa Ibom state. Armed men on Sept. 30 assaulted a another vessel supplying one of Exxon's offshore oil platforms, wounding one worker and seizing another.
Nigeria is Africa's largest oil producer and fifth-biggest source of U.S. crude imports. Armed attacks in the delta cut the West African nation's oil output more than 28 percent from 2006 to 2009, according to data compiled by Bloomberg.