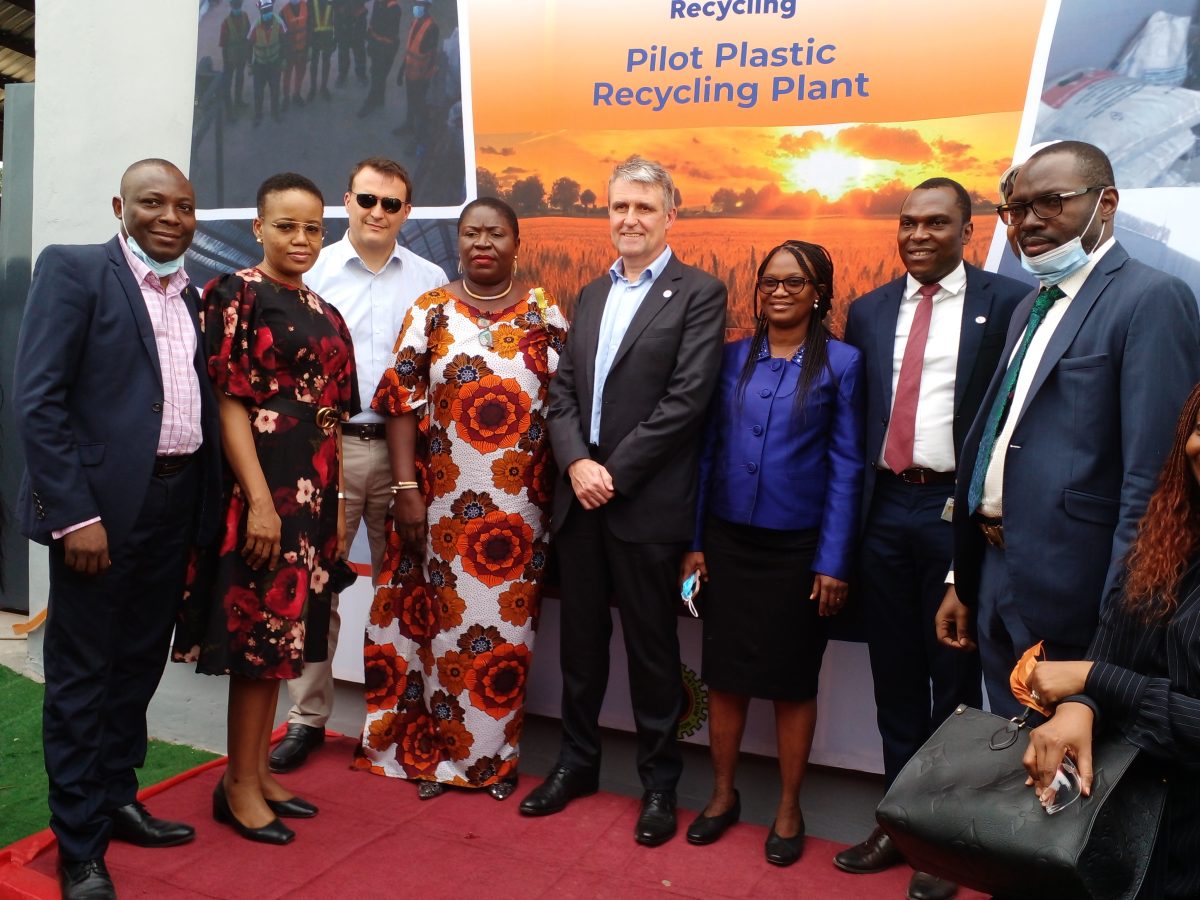 – Adds 80 direct & indirect jobs to Nigeria's economy
Mkpoikana Udoma
Port Harcourt — TotalEnergies EP Nigeria Limited, has commissioned its 1,000 tonnes capacity plastic waste recycling plant in Elelenwo, Obio/Akpor Local Government Area of Rivers State, as part of its sustainable corporate social responsibility initiative.
The TotalEnergies plastic recycling plant, which is in partnership with NNPC and the United Nations Institute for Training and Research, will saved over 750tonnes of CO2 emissions per year, which is equivalent to planting about 4,500 trees annually.
Speaking at the commissioning of the plant, the Managing Director of TotalEnergies EP Nigeria Limited, Mr Mike Sangster, said the project came about as a result of finding a sustainable plastic waste management solution for African countries from the Polymers Business Europe branch of TotalEnergies, adding that Nigeria was selected for the pilot plant due to her large population and the volume of plastic waste generated in the country.
Sangster explained that the plant will be run by an entrepreneur, who will run it and eventually take full ownership after repaying a part of the investment, which the repaid funds would be reinvested into similar facility in other communities. He said the plant is projected to create over 80 direct and indirect jobs.
The TotalEnergies' boss said the company's mission is to produce and supply more affordable, more reliable and cleaner energy, to meet the challenge of the 21st century and play an active role in the energy transition drive, by becoming a broad energy company.
He reaffirmed the company's resolve to produce more energy with less emissions and be more sustainable, while assuring that TotalEnergies and partners will continue to support UNITAR and the entrepreneur for the long-term success of the recycling plant.
"This project is one of several others through which we express our commitment to and long-term partnership with Nigeria. Our CSR initiatives typically target sustainable poverty reduction and job creation through capacity building and infrastructure development.
"We decided that the best way to proceed was to partner with the UNITAR as part of our sustainability strategy. So, while TotalEnergies is the sponsor of the project, the plant itself will be handed over to an entrepreneur who will run it and eventually take full ownership after repaying a part of the investment.
"The recovered part of the investment will be placed in a recycling fund that will be re-invested into similar facilities within our local communities. Our objective is to develop a sustainable model where local entrepreneurs will be empowered, trained and supported to run the business, thereby supporting local enterprise while promoting sustainable waste management in line with the United Nations' SDGs Goal12, which calls for sustainable consumption and production patterns.
"We all know how common plastics have become– we see them everywhere. However, if not properly managed, plastic has great tendency to end up in our rivers or oceans and constitute threat to the environment, especially in developing countries. Prevention at source is vital and recycling best supports the circular economy model.
"In establishing this plant, our vision is to facilitate waste management in Nigeria through economic empowerment, which is in line with our core values as a Company. The pilot plant is fully equipped with sophisticated modern recycling machines and will recycle over 1,000 tonnes of waste Polyethylene and Polypropylene per annum.
"Feedstock will be supplied by a network of collectors, waste generated by corporate organisations like TotalEnergies, and from dealers. The final resin pellets produced from various non-toxic waste sources will be sold to plastic converters in Nigeria. The plant will also serve as a training and information centre."
Also speaking at the event, the Minister of State for Environment, Mrs Sharon Ikeazor,
challenged the private sector to key into the project and replicate same to tackle marine pollution and plastic wastes on the ocean.
Ikeazor represented by the Director, Pollution Control, Federal Ministry of Environment, Mr Olubumi Olusanya, said the government has "created the enabling environment to promote circular economy such as this, for waste reduction, recycling and converting wastes to wealth, through incentives and policies."
Also speaking, the Managing Director of NAPIMS, Mr Bala Wunti, assured that the project would give birth to other similar projects, in furtherance of the government's social investment initiative through the oil and gas sector.
Wunti represented by the Manager, Efficiency, Mrs Adetutu Olukanmi, said, "Our vision for social interventions is to operate in an ethical and sustainable manner and deal with the environment and social impact occasioned by our activities, hence the approval of various CSR projects by our operators across the country for maximal impact."
Also, the Assitant Secretary-General, UNITAR, Mr Nikhil Seth, represented by a Senior Consultant at UNITAR, Dr Lawrence Boms, commended TotalEnergies for having the confidence to partner with them on the project, saying that the project was an evidence of collaboration between the public and private sector.
Also, the Nye Nwe Eli of Elelenwo community, Eze Sunny Weli Chukwu, thanked TotalEnergies for sponsoring the project and for deeming it fit to site the plant in his community, while also soliciting for the training and employment of his community youths in the plant.
Chukwu assured that there will be no form of disturbance from the host community, saying that all the community wants was developmental programmes and projects that would bring about employment, schorlaships, education of their youths.
Follow us on twitter