Lagos — As part of their corporate social responsibilities to different communities in Nigeria, NNPC, its contractor TotalEnergies Upstream Nigeria Limited, operator of OML 130 and partners have built and donated a multi-million-naira solar powered borehole and treatment plant to Imesi – Ile high school, in Osun state.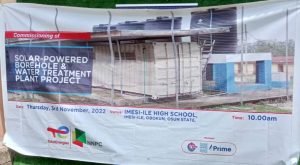 The solar powered borehole and treatment plant is expected to address acute water shortage at Obokun Imesi Ile due to the rocky terrain of the community.
The borehole which will be powered by solar panels and a 10kva inverter will provide the beneficiaries access to portable treated water and reduce water borne diseases.
The borehole is fully equipped with 4 units of G-PEE wanks with 10,000 litres capacity each, and 8 dispensing points that will adequately serve the school and the community.
In his welcome address, Mr. Bala Wunti, the Chief Upstream Investment Officer of the NNPC Upstream Investment Management Services who was represented by Mr. Ayodele Oladapo said that the project was part of efforts to mitigate various identified gaps.
He noted that the projects aligned with sustainable development goals, SDGs, adding that the partners would continue to champion the implementation of SDGs.
Mr. Mike Sangster, the Managing Director of TotalEnergies Upstream explained that his company commenced a robust plan to deploy CSR infrastructure development across the country in 2016.
He disclosed that this resulted in a strategy to deliver 84 infrastructure projects across the six geo-political zones of Nigeria.
"In the 1st Phase, a total of 33 projects were launched in 2017 in the areas of education, health, capacity building and access to water across the country. In the 2nd Phase another 24 projects were launched in 2018 and yet another 27 projects were launched in 2019 in our 3rd Phase.
Mr. Sangster disclosed that of the 84 infrastructure projects, 43 have already been completed and commissioned from the earlier three phases.
He disclosed that 8 more are scheduled for commissioning this month while another 19 projects are under construction and shall be commissioned on completion.
The Imesi Ile community leaders and other stakeholders, commended NNPC Limited, TotalEnergies, Sapetro and others for providing succor to the community and urged other organizations to emulate them.
Imesi Ile community is among the 64 communities that benefited from the corporate social responsibility of NNPC TotalEnergies Sapetro and others across the geo-political zones of the country.
The stakeholders pledged to ensure sustainable use of the water project for the good of the school and the community.
OML 130 partners include the NNPC Limited, TotalEnergies Upstream Nigeria Limited, PRIME (formerly Petrobras), Sapetro and CNOOC.