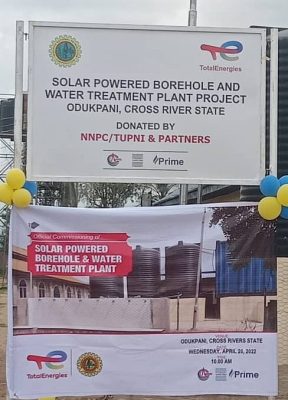 OpeOluwani Akintayo
Lagos — After a successful commissioning and handing over of a borehole and water treatment plant project to the Warri community in Delta state last week, TotalEnergies and partners have replicated same in Odukpani, Cross River state.
The project commissioned and handed over on Wednesday, is in furtherance of its Corporate Social Responsibility, CSR initiative to positively impact lives of people in its host communities in Nigeria.
Odukpani community which plays host to several schools (primary and secondary), and whose main source of water is the stream, now have access to clean and hygienic water powered by 26 solar panels with a 25-year warranty lifespan.
The project also boasts of three large G-PEE tanks with a total of 21 thousand litres of water content, alongside eight dispensing points connected into the community.
Mike Sangster, Managing Director, TotalEnergies Upstream Companies in Nigeria, represented by Kenechi Esomeju, General Manager, Social Corporate Responsibility, said the projects scattered across the country, were borne out of the need to mitigate the gaps in qualitative and technical education, maternal and child health, access to clean water and women and youth empowerment.
The projects, according to her; "are in congruence with the related United Nations Sustainability Development Goals. The locations of these projects have also been very carefully chosen for maximum impact, coming from a need assessment carried out before the deployment.
"As already mentioned, the project we are commissioning today is one of the several projects being deployed across the entire country. Unfortunately, because of the Covid-19 pandemic we could not be physically present with you today. However, we have adopted this efficient and effective remote commissioning strategy to ensure delivery of all completed projects. I thank our senior partners, NNPC, and our PSC partners, SAPETRO, PRIME and CNOOC, who have joined us in providing the means, the processes and the resources that enabled us to deploy these local development projects. I also thank our several stakeholders including the State & Local Governments, beneficiary institution and the Project Managers for their support. As we hand over the project to you today, we implore you to ensure its sustainable use to impact on the people positively. The sustainability barometer shall be seen during our Impact Assessment Exercise, when we will come back to check how this project has helped and improved the impact of the hospital and lives of the benefitting community," she said.
Speaking on behalf of Bala M. WUNTI, General Group Manager, National Petroleum Investment Management Services, NAPIMS, Joy Eguahon, said the completion and commissioning of the project was designed to mitigate the hardship faced by the locals especially women and children in the area In obtaining clean and portable water.
"In NNPC, our vision for social intervention is to continue to operate in an ethical and sustainable manner and deal with the environment and social impacts occasioned by our activities. We pride ourselves in our slogan "we touch your lives in many positive ways", hence the approval for the deployment of various CSR projects by our operators across the country for maximum impact. NNPC along with its partners have implemented various projects in the areas of education (building and equipping of schools/ classrooms, laboratories, donation of books, scholarships, Quiz competitions, etc.) skill acquisitions and economic empowerment, healthcare, solar power and other infrastructural intervention projects.
"These projects were borne out of the need to mitigate the gaps in Health Care, Quality Education, Water, and Women & Youth Empowerment in line with the relevant Millennium Development Goals (MDG). NNPC and its Partners are socially responsible organisations committed to improving the livelihood of the citizens of our great country, Nigeria.
"NNPC will continue to consistently champion the implementation of Sustainable Community Development projects that will positively impact the lives of the citizens of this Country. We are very proud and elated to be commissioning yet another laudable and essential project. We know that this facility will help provide succor to the people for the purpose it is intended," she said.
On behalf of the partners, Luc Vanson, General Manager, Prime 130, said the company was proud to be part of such laudable initiative especially because clean water is an essential commodity.
"On behalf of the partners, we are proud to identify with the project as we want to make sure that Nigerians have access to quality education, clean water, and international standard healthcare system," he said.
While enjoining the community to maintain the project, he said the locals have been trained on how to handle the plant for production of clean water.
On behalf of the community, Engr. David Asanedion in his opening address, said lack of clean water has been a major challenge in the Odukpani community.
"This community has, for several years been faced with clean water challenge, however, with this gift from TotalEnergies and partners, we are grateful.
"The clean water will mitigate against waterborne diseases, and promote good health among our people", he said.
Head, Nkoro clan, Egnr. Ichan Okon said the water project will further decrease the illness rate among locals.
Theophilus Ahon, representing the state's. Ministry of Water Resources, thanked TotalEnergies and partners for the laudable project, and promised that the community will see to its adequate protection and maintenance.
Last year, a total of 10 projects were commissioned, while eight have been commissioned and handed over so far this year under the batch four project lineups.
In 2016, TotalEnergies commenced its robust plan to deploy CSR Infrastructure developments across the country which resulted in a strategy to deliver 84 Infrastructure projects across the 6 geo-political zones in Nigeria.
In its 1st Phase, a total of 33 projects were launched in 2017 in the areas of Education, Health, Capacity Building and Access to Water across the country. In its 2nd Phase another 24 projects were launched in 2018 and yet another 27 projects were launched in 2019 in the 3rd Phase.
Of these 84 infrastructure projects, over 40 have already been completed and commissioned from the earlier three phases and this year, a total of 14 have now been completed and will be commissioned this April. The remaining are still under construction and will be commissioned on completion.
Follow us on twitter