France's TotalEnergies says the security situation in Mozambique is "improving" as it weighs a restart of construction at its two-train Mozambique LNG project in the southeast African country.
"We are looking at the situation and, so far, the steps taken by the Mozambican government are going in the right direction," Henri-Max Ndong Nzue, the company's senior vice president of Africa, told S&P Global Platts Nov. 9 on the sidelines of the Africa Oil Week conference.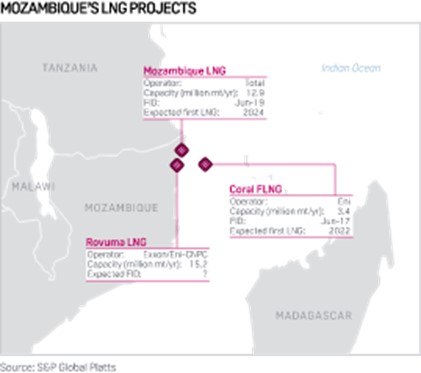 In April, TotalEnergies declared force majeure on the Mozambique LNG project and removed all of its staff from the site, after Islamist militants attacked the nearby town of Palma in late March, killing dozens.
The situation has pushed back the start of first production to at least 2025 from 2024, with full production of 13.1 million mt/year projected in 2026.
In February, TotalEnergies CEO Patrick Pouyanne said the Mozambique LNG project was 21% complete as of the end of 2020.
Since the Palma attack, military forces have secured the province in the north of the country, not only for the LNG project, Nzue said.
"Things are improving by what we can see on the ground. The African forces are doing quite a good job," he said. "So things are improving. But what is key is to have security in a sustained manner, and that is very important."
Mozambique's more than three-year-old insurgency has imperiled the country's ambitions to join the ranks of the world's biggest LNG exporters, impacting not just Mozambique LNG but also ExxonMobil's planned 15.2 million mt/year Rovuma LNG project.
TotalEnergies operates Mozambique LNG with a 26.5% stake, having taken over the project in September 2019 as part of its deal with Occidental to buy assets the US company had acquired with its purchase of Anadarko.
Mozambique LNG has already secured long-term offtake agreements amounting to more than 11 million mt/year with the likes of Shell, France's EDF, China's CNOOC, a partnership of the UK's Centrica and Japan's Tokyo Gas, and a joint venture between Japan's JERA and Taiwan's CPC Corp .
Its partners are Mitsui (20%), ENH (15%), ONGC Videsh (10%), Beas Rovuma Energy (10%), BPRL (10%), and PTTEP (8.5%).
The initial two-train project could be expanded, with a potential capacity of as much as 43 million mt/year, according to the project's website.
*S&P Global