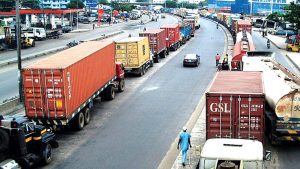 Vincent Toritseju
Lagos — The Association of Maritime Truck Owners, AMATO has commenced moves to sue the Nigeria Customs Service, NCS, over seizure of vehicles belonging to the members for carrying contraband saying, "the action of Customs is a miscarriage of Justice."
Speaking to Vanguard in Lagos yesterday, President of the group, Mr. Remi Ogungbemi said that over 200 trucks belonging to their members are in the custody of the Nigeria Customs Service for carrying contraband cargoes that they know nothing about.
Ogungbemi also said that the group has written to the Nigerian Shippers Council, the Nigerian Ports Authority, NPA and the Federal Ministry of Transportation for their intervention but these have not yielded any success adding that the group id left with no option than to take legal action to seek redress.
He disclosed that leadership the leadership of the Nigerian Shippers Council had told the truckers to hold to their legal action pending when it would try to resolve the issues with the management of the Customs Service.
He said: "The NPA, NSC and the Ministry of Transportation tried their best to intervene in the matter, but we have no other option than to sue the Customs Service. We are going to file a suit to seek redress, we have already approached the court so that the Court can help us intervene in the matter. However, we brought up the matter to the Executive Secretary of the Nigerian Shippers Council and he advised that we should not go to Court, and I regarded that statement as political. It is not that we do not want to listen to them but since nothing is happening and the only means of livelihood of our members are being impounded by the Customs. So, as of now we do not have any other option than to take the matter to Court.
"We are taking the Customs to Court because what they are doing is a miscarriage of Justice. Something we know nothing about, how can they be impounding and arresting our members and the Customs are the people that are examining the containers before they release the containers.
"And in the course of examination, the importers are always there and if they find any prohibited items in the containers, why not query them, why wait until the container is loaded on the truck before you say you are arresting the truck. Maybe it is deliberate attempt for using truckers as a scapegoat for the offense committed importers.
Follow us on twitter