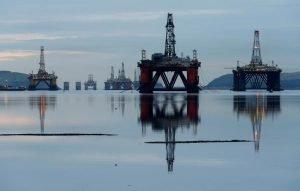 London — Britain's first oil and gas exploration licensing round since 2019 attracted 115 bids, up from 104 in the last round, with the licences likely to be awarded from the second quarter, the North Sea Transition Authority (NSTA) said on Tuesday.
Britain's government is looking to boost domestic hydrocarbon output as Europe weans itself off Russian fuel, but climate activists have criticised the licensing round and Greenpeace is working on a legal challenge.
Britain's recent increase to a windfall tax on the oil and gas sector has pushed the UK North Sea's biggest oil and gas producer, Harbour, to shun the licensing round.
Energy majors Shell and BP took part, company spokespeople said.
The 115 bids came from 76 companies for 258 of 931 blocks on offer. That compared with 104 bids for 245 blocks out of 768 on offer in 2019, the NSTA said.
The British North Sea, home to the Brent global benchmark grade rade, is an ageing basin where oil and gas production has fallen from a 1999 peak of about 4.4 million barrels of oil equivalent per day (boed) to about 1.5 million boed.
While hosting the 2021 COP26 climate summit, Britain decided not to join an alliance of countries vowing to stop new oil and gas projects on their territory.
Reporting by Shadia Nasralla; Additional reporting by Ron Bousso; Editing by Josie Kao and David Goodman – Reuters
Follow us on twitter