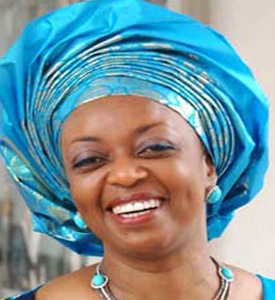 20 May 2013, London – The UK and US have pledged to assist Nigeria curb the menace of crude oil theft which President Goodluck Jonathan has described as "blood oil".
Minister of Petroleum Resources, Mrs Diezani Alison-Madueke, made the announcement at a lecture entitled "The Future of African Energy in a Changing World", delivered on Sunday at St. Anthony's College in Oxford University, England.
"I must say that both the British and US Governments have been in discussions with us and are keen to join hands with us to fight this menace.
"The global community is on track and already geared up and we are working to put in place a strategic platform that will involve us all and enable us track and fingerprint stolen crude," Alison-Madueke said.
She said that crude oil theft and vandalism were being executed on a professional scale beyond petty stealing, adding: "It is, therefore, clear that this crude is being taken to refineries outside the shores of West Africa."
According to her, proceeds from stolen crude, are being passed through fiscal institutions beyond the African continent and the monies are laundered by fiscal entities.
"It has therefore, become necessary to tackle the issue globally as it is carried out by powerful cabals and experts," she said.
The minister said that governments in the Niger Delta were collaborating with service chiefs to sensitise the affected communities on the dangers of illegal refineries on the environment.
She said that illegal refineries, popularly known as "firewood distilleries," had severe impact on the environment and human beings, especially because of the risk of disabilities in new born babies.
Other issues addressed by Alison-Madueke include the Petroleum Industry Bill, PIB, and global politics of oil where she stressed the need to give emerging economies more support.
"It is better to invest in these economies, import their gas and oil rather than give out charity and donations to them.
"Basically if Africa itself is not stable and if it's teeming youth population are not gainfully employed, then they obviously pose an inherent threat to global security and stability in the world," she said.
Mrs Cherie Blair, wife of UK's former Prime Minister Tony Blair in an interview with the News Agency of Nigeria, NAN, commended Alison-Madueke for her detailed lecture on the oil sector in Nigeria.
Blair said the PIB as explained by the minister, when passed into law, would be beneficial to companies with investments in the sector and crucial to Nigerians.
The lecture attracted experts from the oil and gas sector, including a former Ghanaian President, Mr John Kufuor.