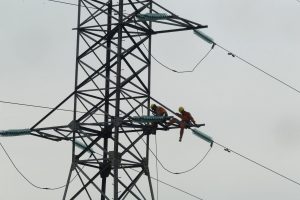 Kyiv — Ukraine will face a power deficit later this summer and in the autumn and winter as its energy infrastructure struggles to recover from months of Russian missile attacks, the national grid operator said on Wednesday.
Volodymyr Kudrytskiy, head of state-owned Ukrenergo, said an unprecedented repair campaign was under way across the country and 50-60% of planned work had been completed, but the situation remained difficult.
"The sources of the deficit are known. This is damage to thermal and hydroelectric power plants. Not a single large thermal hydroelectric plant in this country has escaped damage of a certain degree," Kudritskiy told an online media briefing.
He also said the distribution networks, especially in large cities and in frontline regions, were severely damaged as they were the main targets of Russia's attacks.
Also, some units at nuclear power plants were undergoing planned repair work now to enable them to produce more electricity during the colder months, Kudrytskiy said.
Ukraine's energy infrastructure survived the lengthy campaign of frequent missile and drone attacks which resulted in power cuts and scheduled blackouts, leaving towns and cities in darkness for hours at a time over winter.
Fast repairs, and equipment sent in thousands of units by Kyiv's Western partners, helped residents and businesses adapt. Kudrytskiy said the pace of repairs this year was six to seven times quicker than the average before Russia's full-scale invasion in February 2022.
Ukrenergo has already received about 900 million euros ($984 million) in foreign financing to help with the repairs and the company is looking for additional financing for the coming winter season.
Kudrytskiy estimated additional needs at about $300 million and said the company was in talks with lenders, including the European Bank for Reconstruction and Development.
Kudritsky declined to give figures on the existing power deficit but said Ukraine would have to import electricity from other European countries and also add additional power units to be able to balance the system.
Reporting by Olena Harmash, Editing by Timothy Heritage – Reuters
Follow us on twitter