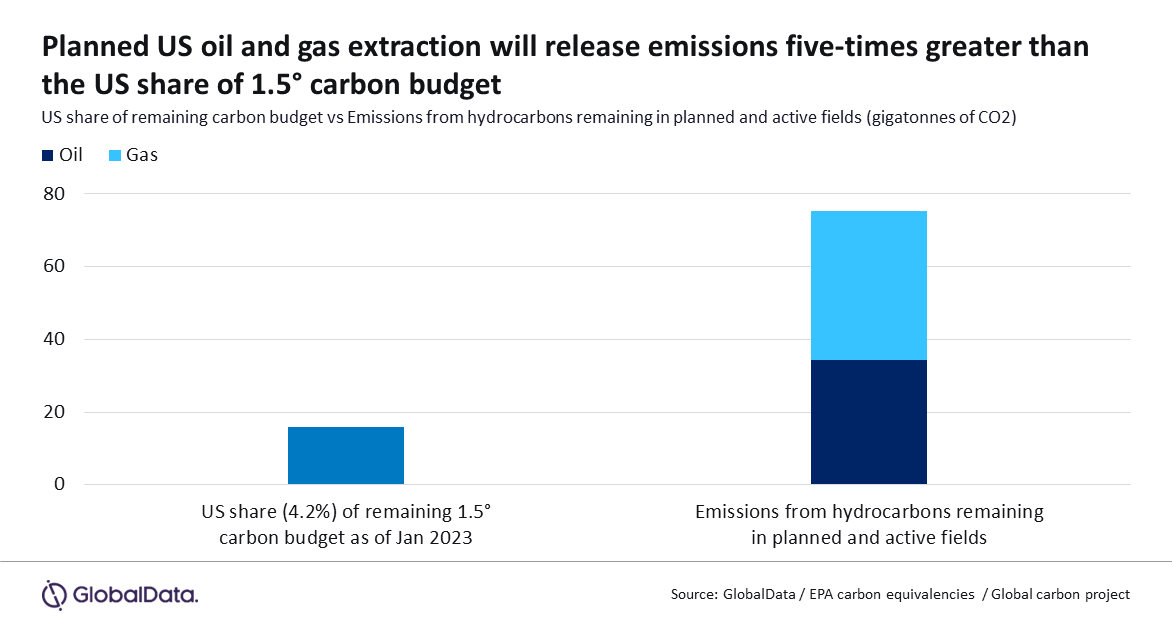 Lagos — The ambitious oil extraction plans of the US have come under scrutiny as the country is projected to release five times more carbon dioxide than the allocated 1.5°C carbon budget. Despite President Joe Biden's focus on climate action, the approval of projects like the Willow oil drilling in Alaska and the continued development of new oil infrastructure contradict the necessary decline of fossil fuel assets, according to the latest exclusive analysis in Energy Monitor, the flagship energy title of GlobalData, a leading data and analytics company.
Recently, the Joe Biden administration has approved the controversial Willow oil drilling project in Alaska in March. Since the shale revolution of the 2010s, the US has surpassed Saudi Arabia and Russia to become the world's largest producer of oil and gas.
Nick Ferris, Senior Energy Data Journalist at Energy Monitor, says: "Biden has made climate action a top priority, but he has not ushered in a managed decline of fossil fuel assets, or stopped new projects being approved for extraction: both of which the International Energy Agency (IEA) says are needed for the world to be on track for net zero by 2050."
Andres Reyes, Upstream Oil Analyst at GlobalData, comments: "The approval of Willow, and the development of new oil infrastructure in the region may now increase the likelihood of other proposed US Arctic oil projects – such as ConocoPhillips' Putu and Stony Hill – being approved for development."
GlobalData data shows that there are some 75 billion barrels of oil remaining in active fields across the US, with a further 4 billion barrels in fields such as Willow, which are currently planned. Active US fields also have some 744 trillion cubic feet of gas remaining, while planned fields contain 2 trillion cubic feet of gas.
According to the US Environmental Protection Agency (EPA), a barrel of oil emits 0.43 tons of CO2 when burnt, while 1,000 cubic feet of gas emits 0.0551 tons of CO2 when burnt.
Energy Monitor therefore calculates that this remaining oil and gas embodies 75 gigatons of potential CO2 emissions – five times the US's 'fair' share of what the world can still emit for a 50% chance of limiting global warming to 1.5°C. That 'fair' share is based on the US's share of the global population. The world's remaining carbon budget is based on early 2023 modelling from the Global Carbon Project, a leading organization of climate scientists. Full details of Energy Monitor's calculations can be found in the full article.
Energy Monitor maps where most of the remaining US oil and gas reserves are, and identifies 300 'discovered' oil and gas fields whose commercial viability is still to be determined. In addition, it uses GlobalData data to map some 15,000km of oil and gas pipelines and 29 liquefied natural gas (LNG) terminals under development. In 2022, the US became the world's largest LNG exporter.
In a separate investigation earlier this year, Energy Monitor calculated how the future oil and gas extraction plans of just 25 companies around the world are set to blow the world's 1.5°C carbon budget, again using analysis of thousands of exclusive data points from GlobalData.
Reyes concludes: "As the US pursues its oil extraction plans, the repercussions for global climate goals become increasingly concerning. Urgent action is needed to reconcile these conflicting priorities and steer towards a sustainable energy transition."
Follow us on twitter