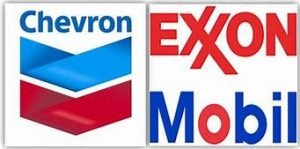 News wire — An Oregon county sued Exxon, Chevron, other major oil and coal companies, and industry groups, seeking over $50 billion to counter the harms caused by extreme weather fueled by climate change.
Multnomah County said in the lawsuit filed in state court in Portland that fossil fuel companies and trade groups like the American Petroleum Institute intentionally deceived the public about the dangers of burning their products for decades. It said the companies and trade groups must now help pay for past and future harms from the extreme weather that has resulted, including a 2021 heat wave in the Pacific Northwest that killed dozens.
Rather than acknowledge the dangers of climate change, the lawsuit said the fossil fuel industry worked to undermine the scientific consensus around the problem "with pseudo-science, fabricated doubt, and a well-funded, sustained public relations campaign to promote their spin."
The lawsuit also targets the consulting firm McKinsey, which it said advises major oil companies, including on strategies to downplay or deny the link between greenhouse gas emissions and extreme weather.
Theodore Boutrous, an attorney for Chevron, said in a statement that lawsuits such as the one filed on Thursday are "counterproductive" and distract from advancing effective international policy solutions. He said the county's claims are "baseless" and barred by the U.S. Constitution.
A spokesperson for the American Petroleum Institute called the lawsuit and others like it "meritless" and said the litigation wastes taxpayer resources.
McKinsey did not immediately respond to a request for comment.
The legal action follows dozens of lawsuits filed in recent years against the fossil fuel industry by states and municipalities across the U.S. broadly alleging harms from climate impacts including extreme weather.
The American Petroleum Institute and oil companies have said in response to those lawsuits that policies to address climate change should come from the federal executive branch and Congress, not via a patchwork of decisions in court cases across the United States.
The county said Thursday it had already begun experiencing climate-related harms, including from the 2021 "heat dome" that caused temperatures in the county, which includes Portland, to soar to 116 Fahrenheit (46.6 Celsius).
Since the area normally has mild weather, the lawsuit said residents were not equipped with things like air conditioners to handle the elevated temperatures. The county said 69 people in the county died from overheating and the heat wave caused a "crushing economic burden."
The heat wave, and other extreme weather events like wildfires, are a "direct and foreseeable consequence" of the industry's decision to sell fossil fuels for decades despite knowing their harms, according to the lawsuit.
The county is seeking $50 million to repay it for its past efforts to protect public health, safety and property from heat waves and wildfires, at least $1.5 billion for future damages and at least $50 billion for an abatement fund to help study and implement mitigation measures to reduce climate-related harms.
Reporting by Clark Mindock in New YorkEditing by Alexia Garamfalvi, Matthew Lewis and Diane Craft – Reuters
Follow us on twitter