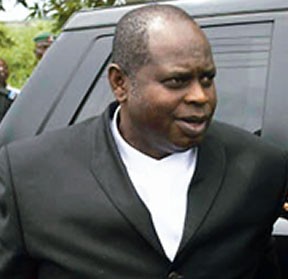 04 April 2013, Abuja – The United States of America may cut aid to Nigeria following the presidential pardon granted a former governor of Bayelsa State, Diepreye Alamieyeseigha and seven others.
Nigeria is one of the biggest recipients of US aid in Africa. Last year the US gave Nigeria about $226 million in development aid and is expected to spend $600million this year.
Alamieyeseigha was found guilty and convicted of corruption before he was pardoned on Tuesday by the National Council of State after a meeting in Abuja.
The US stated that it was disappointed that those convicted of corruption could be pardoned by the President Goodluck Jonathan's administration.
It said the move was a setback for Nigeria's anti corruption crusade.
The Hill, a US newspaper, quoted Victoria Nuland, State Department spokeswoman as saying, "The United States government is deeply disappointed over the recent pardons of corrupt officials by the Nigerian government.
"We see this as a setback for the fight against corruption and also for our ability to play the strong role we've played in supporting rule of law and legal institution building in Nigeria, which is very important for the future of the country, obviously."
Asked if the US could cut off aid, Nuland said it was possible, adding that the pardon put a dent on the collaborative efforts between Nigeria and the US in fight against corruption.
She said, "We have made clear to the Nigerians that this puts a question mark on the kinds of work that we've been trying to do with them.
"We haven't yet taken the kinds of steps that you're suggesting, but we're continuing to look at what's appropriate."
The US embassy in Abuja had also condemned the pardon via its Twitter handle @USEmbassy saying it was "deeply disappointed."
"We see this as a setback in the fight against corruption," the embassy said.
Nigeria was slated to receive $660.5 million in the US 2012 budget, more than any other sub-Saharan country except Ethiopia.
Meanwhile, President Jonathan's aides have continued to defend the government's action saying it was in order.
On Saturday, the Special Adviser to the President on Media and Publicity, Dr. Reuben Abati, who appeared on a breakfast television show on Channels Television, Sunrise Daily, said commentators' views on the pardon smacked of ignorance.
Abati said, "There has been a lot of ignorance about what has happened, and sophisticated ignorance. But I respect the fact that part of our responsibility is to explain to people.
"The first thing to note is what a state pardon is not. One, a state pardon does not mean that an individual was not convicted at a particular time; in fact state pardon means that you have been convicted for a particular crime and you have been punished."