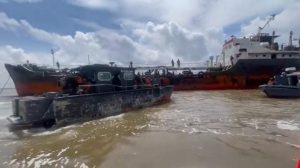 Toritseju Vincent
Lagos — The Nigerian Maritime Administration and Safety Agency, NIMASA, has disclosed that MT TURA 11, the vessel arrested with 800,000 metric tons of stolen crude is not registered on the Nigerian Ship Registry
Director General of NIMASA, Dr. Bashir Jamoh said that internal checks revealed that the vessel is not on the agency's Ship Registry, an indication that the documentation of the vessel are fake.
"We are made to believe that the vessel has been moving around with fake documents because it is not in our Registry at the time we checked," he said.
Speaking on the development, President of the Nigerian Association of Master Mariners, Captain Tajudeen Alao said that the vessel must be investigated, and the owner prosecuted.
Alao stated that the incident must be fully investigated so as to reduce the menace of oil theft in Nigeria.
"If the ship was arrested and handed over to Navy and EFCC and if the ship has been deregistered more than five years ago, how come she is still carrying Nigerian flag despite not being on our Ship Registry.
"She has been deleted from the Nigerian Registry but claiming to be registered in Nigeria and the ship has not been surveyed and was in class as at the time she was arrested.
"There must be further investigation, what document did they find on board the ship, there must be technical investigation so that we can know the loopholes and make recommendation to block it."
The Vessel, MT TURA II (IMO number: 6620462), owned by a Nigerian Registered Company, HOLAB MARITIME SERVICES LIMITED with Registration Number RC813311, was heading to Cameroun with the Cargo on board when it was apprehended at an offshore location (Latitude: 5.8197194477543235°, Longitude: 4.789002723991871°), with the Captain and Crew members on board.
Preliminary investigations revealed that the crude oil cargo onboard was illegally sourced from a well jacket offshore Ondo State, Nigeria. There was no valid documentation for the vessel or the crude oil cargo onboard at the time of the arrest.
Further investigation into the activities of the vessel at the NNPC Ltd Command and Control Centre also revealed that the Vessel has been operating in stealth mode for the last twelve (12) years. The last reported location of the Vessel was Tin Can Port in July 2011.
Follow us on twitter