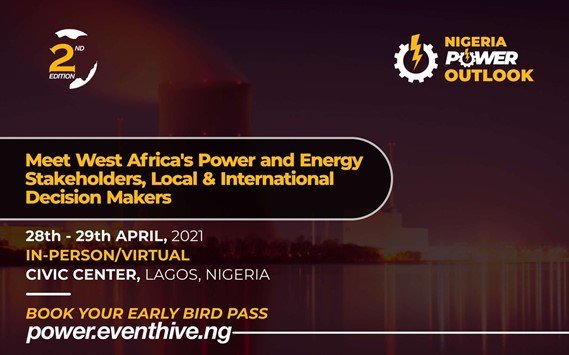 Lagos — Power and Energy stakeholders are set to brainstorm at the 2nd edition of Nigeria Power Outlook scheduled to hold in an hybrid form (In-person/Virtual) between 28th-29th, April, 2021 at the Civic Center, Victoria Island, Lagos, Nigeria. The theme of the 2-day event annually organized by Eventhive.ng is 'PowerUP Nigeria; The Pathways For Growth'.
Building on the successes recorded from the flagship edition of the event last year, the event has grown to become West Africa's premier meeting place for the Power and Energy Industry.
In 2021, Nigeria Power Outlook will refocus conversations in the Power sector on solutions rather than challenges, The event will convene power and energy industry leaders who will debate best practices and necessary actions for the power sector. This year's edition of the event will deliver unrivalled marketplace enabling quality businesses through learning, networking and connections as we will be combining physical and virtual dialogue.
The Key Focus Areas for this year's edition
De-risking energy investments in a post-pandemic environment; The appeal and potential of off-grid power projects; Attracting and retaining Investments in Nigeria's power and gas sectors; Improving power delivery across the generation, transmission, distribution value chain; Understanding the regulatory environment; Taking the grid forward : Sustainable approaches for getting the grid back to viability and encouraging private investments; Collaborative approaches to ending energy poverty; Nigeria's LPG market ; Unlocking barriers to private capital- Accelerating market growth; Metering in Nigeria's Power sector; Mobilizing long term domestic savings fund Nigeria's power and energy infrastructure.
Nigeria Power Outlook will feature exhibitions of latest products, technologies and services from power and energy companies to an involved audience (B2B) that includes Investors, Suppliers, Service providers e.t.c.