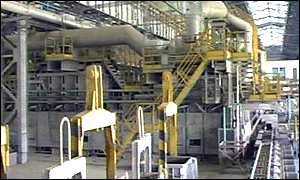 Jimitota Onoyume
21 August, 2011, Sweetcrude, Abuja – THE second ECOWAS Welding Conference came to an end in Abuja recently with participants urging the federal government to ensure the Ajaokuta Steel Plant comes alive.
They noted that the plant has the capacity to cater for the steel needs of ECOWAS member countries. And also make Nigeria achieve greater percentage of local content in the oil and gas sector
President of the West African Welding Federation, Mr. Solomon Iyobosa Edebiri in his address harped on the significance of the Ajaokuta steel plant to Nigeria and the sub west Africa region. According to him, no meaningful drive to industrialize the nation's economy could take place in a country without a steel plant. Edebiri who is also the president Nigerian Institute of Welding enjoined the federal government to adopt the backward integration approach for the revitalization of the Ajaokuta plant, noting that this would make it possible for steel products such as bars, rods, angles to be produced from existing rolling mills and through the acquisition of billets. While the foregoing is on he said effort could then be focused on addressing issues around the furnace at the plant.
He said since steel comes in different shapes and sizes it would be the needed tool to achieve an efficient and effective local content economy in the oil and gas and several other sectors.
He further enjoined the government to set up a technology village to promote adaptive research. He explained that the village would serve as a rallying point for those with various technical skills to come together to test their knowledge with a view to making Nigeria an exporting nation. Adding that research effort should be supported by the industries. This he said could be made possible when companies involved in manufacturing and production set up a development unit that would be charged with the task of exploring new ways of improving on their product, using adaptive research approach.
"Establish a technology village where research groups could come together to see what can be done. We should go beyond talking. People should go to school with competency to produce. And this is possible when government creates the atmosphere", he said.
He also called on Nigerian Raw Materials council be strengthened and be made to work with various research organizations to determine the various raw materials available in the country and their end products. "We need to know the raw materials available all over the country and what they can be used for, this is why government must strengthen the Nigerian Raw Materials Councils", he said.
On his part Speaker of the Federal House of Representatives, Hon Aminu Waziri Tambuwal assured of legislations to support effort by the Nigerian Institute of Welding to promote technological growth in the country.
The Speaker who declared the conference opened spoke of welding skill as a significant instrument for industrialisation. He said he was elated with the Africa sub regional conference holding in the country just as he tasked participants to come up with resolutions to transform the sub region into a major player in the industrial sector. The Speaker who was represented by a member of the House, Hon Ayo Tajudeen expressed the hope that the conference would mark a turning point in the history of the sub region in the area of technological growth.
"Welding is a significant aspect of our industrialisation process. Most Nigerians want to travel to some countries that have been able to get their industrialised process right but we must know that as at 1990 some of these countries were not global wonders. Today they are what they are because they executed a well laid down plan. I believe this conference will lead us as a country and a sub region to the next level", he said.
Also, Executive Secretary, Nigeria Content Development and Monitoring Board, Engr Ernest Nwakpa said the board would foster collaboration with stakeholders to achieve industrialisation in the country. He said his board would encourage research and development within the welding industry
Others who spoke were His Royal Highness, Emir of Bauchi, Engr Alhaji Dr Suleiman Adamu, Director General s National Agency for Science & Engineering Infrastructure (NASENI), Nigerian Raw Materials Council. In their separate speeches they lauded effort of the conference to realize an industrialized economy in Nigeria and the sub region.