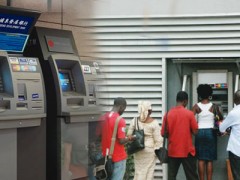 YEMIE ADEOYE 16 August 2013, Sweetcrude, Lagos – Western Union has partnered with an African payment processing specialist, eTranzact, to launch a mobile money service in Nigeria.
The US-based company believes the facility will help boost financial inclusion and provide a more convenient means of money transfer for Nigerians, and the entire Africa.
Nigeria mobile phone penetration rate stands at 70.64 percent, as of June 2013, according to figures provided by Informa's World Cellular Information Service.
In contrast, just 21 percent of the country's population has a bank account, according to the World Bank. The financial service company hopes to bridge this divide by providing users with a mobile platform to pay bills, purchase merchandises online, top up mobile credit and make third party transfers.
"We are very pleased to launch our new relationship with eTranzact to increase the number of access points for consumers to use our services worldwide, facilitate financial inclusion, and provide convenient mobile solutions for those who want new methods for money transfer transactions," said Aida Diarra, Vice President for North, Central and West Africa at Western Union.
The global money transfer service embarked on a recent multichannel approach, after being criticized by stakeholders for it's over reliance on an agent model in providing financial services.
Amongst its recent strategies is the partnership with eTranzact: the collaboration allows customers of the eTranzact Mobile Money platform, PocketMoni, to interact with Western Union on their mobile phones, receiving Western Union mobile money transfer from 23 'sender' countries around the world.
"We are excited to work with Western Union and leverage the power of their global network on behalf of consumers across Nigeria," said Valentine Obi, chief executive at eTranzact.
PocketMoni is a mobile payment solution designed to allow users conduct financial transactions anytime, anywhere, from your phone.