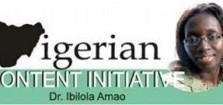 01 June 2013, Sweetcrude, Lagos – Nigerian Content may remain a mirage if the leadership of Nigeria cannot backward integrate its need for uninterrupted power supply to its failed zero-flare policy. This is very simple common-sense and quite explicit to all right thinking patriots. The moral bankruptcy of the leadership has reached a very traumatising level for the majority of Nigeria's populace and our youths are now resorting to kidnapping, militancy, terrorism etc. Can we really be serious about the domiciliation of Nigeria projects and domestication of technology when 170 million Nigerians theoretically have less than 5,000MW to share? It is becoming obnoxious to see the folly of our unending policies and the poorly thought through plans that the Federal Government of Nigeria has had for the future of Nigeria.
My submission is to deal with incompetence and query non-performers. Any non-performing government official should be queried if they are unable to meet set Key Performance Indicators (KPI)'s. A clear understanding of a leader's portfolio of assignments, goals, objectives, sphere of influence and those to whom she or he must be accountable is obviously lacking in Nigeria and as such we have been relegated to a people who claim to have class and style yet are too incompetent to label mediocrity as such.
For a country like Nigeria that has an estimated 187 tcf of proven natural gas reserves and is the 10th largest in the world to continue to experience power outages and low capacity utilization of gas as feed stock to drive fertiliser production and the development of agro and allied businesses is a clear indication of our failure in the area of resource optimisation and planning. Why should a country refuse to move out of the dark ages? Most developed nations have progressed from the Agarian to Industrial, then Information Technology and are now in the Ideas Age.
We are suffering from refineries and industries that are almost comatose, high unemployment and a fast declining standard of living for all and sundry is now becoming a huge concern as unemployed youths are evolving into militants, terrorists, kidnappers and religious mercenaries. In fact the richest person in Nigeria is a poor man merely by aggregating his or her wealth to the amount of mouths that he has to feed or the number of families that are dependents. Failure of government to provide electricity to most homes and industries is one of the major contributors to poverty and a cause for concern.
Minister of Petroleum Resources, Diezani Alison-Madueke is said to have stated that the new target for the country is not to end flaring but on the short-term to meet 22 per cent of gas flaring reduction by 2017. However, while flaring has been cut by 30% since 2005, $50bn worth of gas is still wasted annually – the World Bank Statistic. Gas is destined to play a vital role in the world's future energy supply, and as such will also be a major driver of economic growth and sustainable development in Nigeria. Nigeria needs to monetise her gas in a manner that stimulates national development and socio-economic transformation.
Policy has also been an issue of debate or contention for gas development in Africa. Government agencies are often keen to point out that state policies have been designed to provide incentives and other benefits to encourage gas development. In Nigeria there are policy provisions for a mandatory gas utilization plan for every field development; government "flares out" target dates; the Gas Master Plan, National Energy Policy; and a number of fiscal regimes with "incentives" yet uninterrupted power supply remains a mirage.
The empowerment of the Department of Petroleum Resources (DPR) to implement favourable fiscal regimes that encourage monetisation of gas, exploration and production of NAG, implementation of the gas master plan and collaboration with the Gas Aggregation company to ensure that uninterrupted power is supplied to Nigerians at a realistic fee is a major step towards the actualisation of the NC % listed in the schedule of the NOGICD Act.
The Gas Aggregation Company Nigeria Limited, GACN, must commence collaborative work with the DPR in earnest to manage processing request from gas buyers, allocation of gas to buyers, facilitating GSAA negotiations, managing escrow account on behalf of gas sellers, issue Gas Purchase Order, GPO, to buyers and sellers, facilitate negotiation of Gas Sales & Aggregation Agreement, GSAA, periodic computation of aggregate gas price for sellers, manage dispute resolution process for stakeholders.
Enough of gas politics. Nigeria needs to grow up and deliver uninterrupted power supply for the sake of a better Nigeria and more sane Nigerians.
Dr. Ibilola Amao is the Principal Consultant with Lonadek Oil and Gas Consultants, a firm of technical consultants with their core competence in the area of Local Content and Vendor Development. For more information or to reach Dr. Amao you can email her at [email protected] or visit www.lonadek.com.