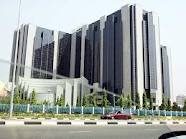 15 February 2013, Abuja – The Central Bank of Nigeria, CBN, has given an insight into why the bank does not designate Excess Crude account in dollars, saying it was constrained by the country's constitution.
Answering questions, yesterday, when he appeared before Senator Bassey Otu-led Senate Committee on Banking, Insurance and other Financial Institutions, CBN Deputy Governor, Suleiman Barau, said the apex bank was still discussing the matter internally to ensure a well advised position.
Mr. Barau who appeared before the committee to be screened for another term, disclosed that the bank was making efforts to ensure that the banks were strong enough to support the real sector for national development.
Barau who told the Senate that the Revenue Mobilisation Allocation and Fiscal Commission advised the apex bank against designating the Excess Crude Account in dollars said: "This is a constitutional constraint.
When it was first mooted, the Revenue Mobilisation Allocation and Fiscal Commission informed us that the Constitution only recognizes the naira as the unit of account."
He also said that if the apex bank must perform effectively, it must be allowed to maintain its financial autonomy as against the proposed amendments to the CBN to subject its budget to the scrutiny of the National Assembly.
Barau argued that such autonomy was in line with the spirit of the law and international best practices, saying, "we believe that the National Assembly can make inputs in our budget through oversight.
You can tell us what to do and what not to do." Responding to a question on interest rates, Barau stressed that the lending rates by banks were still high because of the adverse consequences that lower rates would cause to the rate of inflation at the moment.
On allegation that CBN does not patronize NSPMC for the printing of naira notes, he described it as untrue, adding that only a residual quantity of the 3.2 billion notes required by the CBN were printed by a foreign company.
According to him: "We patronize Mints. The company printed 2.8 billion notes in 2011 and 2.6 billion notes in 2013 out of total 3.2 billion notes the CBN printed."
He explained that the company made a total profit of N2 billion in 2012, just as he said that it was a matter of capacity and not patronage.
Earlier in his remarks, Senator Otu advised that if the banking sector must remain the backbone of economic development in the country, there was the need to get the CBN inject the necessary support, adding that the committee is saddled with the responsibility of screening the nominee for a second tenure as Deputy Governor in the apex bank.
*Citizen