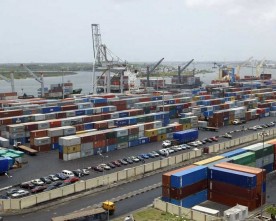 18 April 2014, Abuja – The Nigerian Ports Authority (NPA) has outlined the underlying factors why Nigerian ports did not performed well in 2013.
Besides market forces, the authority said the Federal Government of Nigeria restrictions on importation of cement and rice, among other commodities were responsible for the poor showing of the nation's seaports last year.
The authority in a statement issued in Lagos said statistics of the performance of Nigerian ports in 2013 barely bested that of 2012.
Signed by its Assistant General Manager, Public Affairs, Mr. Musa Iliya, the authority said "recent research revealed that, generally, each port is being shaped by the market forces dictated by the commodity demand and by the particular port user."
According to the authority, the decline experienced in some products can be linked to general economic factor. In dry bulk, for instance, there is ban on the importation of cement. Also, the increase on rice tariff has reduced the importation of the commodity to the country through Nigerian ports, but through smuggling by another route.
Giving further insight into the performance of the nation's seaports in 2013, the statement said: "The European debt crises gave birth to the decrease in Liquefied Natural Gas, many of their industries have closed down, and so the demand for our product was low. They have also discovered an alternative means of production in the Middle East.
"The petroleum product liberalisation, growth in gross domestic product (GDP) and the Transformation Agenda (of the President Goodluck Jonathan administration) resulting in increase in construction works have had an unprecedented economic impact on the port industry."
It explained that excluding crude oil terminals, cargo throughput of 76,886,997 million metric tones was handled at all Nigerian ports in 2013, reflecting a minuscule increase.
– John Iwori, This Day