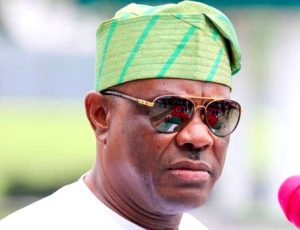 Mkpoikana Udoma
Port Harcourt — The former Governor of Rivers State, Nyesom Ezenwo Wike, has thrown his weight behind President Bola Tinubu's decision to remove fuel subsidy.
Wike also berated organised labour for kicking against fuel subsidy removal, explaining that removal of subsidy on petrol will ease the financial pressure on the federal government.
Speaking during a media chat in Port Harcourt, the immediate past governor of Rivers State, however, admitted that the fuel subsidy removal will bring hardship to Nigerians in the interim.
According to him, President Tinubu removing subsidy from the first day he took office, shows leadership capacity and his preparation for the job.
"Removing fuel subsidy is a hard decision, but he (President Tinubu) had to take it. There is no good leader who means well for his people that will begin to prevaricate.
"During the campaigns he (Tinubu) said he would remove fuel subsidy, both PDP and Labour Presidential candidates also said it. All of them know that subsidy is a problem for this country and having given the mantle of leadership why should he delay in doing what he said?
"The money (fuel subsidy) that should have been used for other purposes. Everybody have been demanding for the removal of fuel subsidy, it is not a new issue even right from the time of Goodluck Jonathan."
The former Minister of State for Education also berated organised labour in the country – TUC and NLC- saying that subsidy funds would be channeled into creating jobs for millions of unemployed Nigerians.
"Labour talked about the masses and civil servants, I don't want to believe that; and that's the mistake they are making. Labour can't speak for me; Labour can only speak for their members who are working.
"Labour can't speak for those who are not working. There are a lot of people who are suffering and without jobs, so why can't this money (fuel subsidy) be used to provide them employment?"
It will be recalled that President Tinubu during his inauguration, had declared that fuel subsidy is gone; the declaration met with public outcry, particularly from the Nigeria Labour Congress and the Trade Union Congress.
Both the NLC and the TUC had called on their member unions to commence a nationwide strike from Wednesday, as fuel subsidy removal has led to an increase of about 300 percent in petrol prices and hyper economic inflation nationwide.
Follow us on twitter