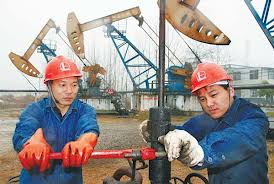 25 July 2013, News Wires – World energy consumption will rise 56 percent in the next three decades, driven by growth in the developing world, noted The Energy Information Administration, EIA, in its International Energy Outlook 2013 report Thursday.
China and India's rising prosperity is a major factor in the outlook for global energy demand, noted EIA Administrator Adam Sieminski in a press conference call.
"These two countries combined account for half the world's total increase in energy use through 2040. This will have a profound effect on the development of world energy markets."
Energy demand will increase to 820 quadrillion British thermal units (Btu) in 2040, up from 524 quadrillion Btus. By 2040, China's energy use will double the United States', according to EIA estimates.
One quadrillion Btu is equal to 172 million barrels of crude oil.
Additionally, renewable energy and nuclear power are the fastest growing source of energy consumption with each increasing by 2.5 percent per year. But fossil fuels, including oil, natural gas and coal will continue to supply almost 80 percent of the world's energy through 2040, noted Sieminski.
Natural gas is the fastest growing fossil fuel in EIA's outlook, and will continue to dominate the landscape, increasing by 1.7 percent per year. Swelling supplies of tight gas, shale gas and coalbed methane support growth in projected worldwide gas use with non-OECD Europe/Eurasia, Middle East and the United States accounting for the largest increases in natural gas production.
The explosion in supply from unconventional sources will underpin growth of natural gas demand, while high oil prices will encourage countries to focus on liquid fuels "when feasible", the report stated.
The EIA's July short-term energy outlook projected benchmark Brent crude to average $105 a barrel in 2013 and $100 in 2014.The report projects that prices will increase long-term with the world oil price reaching $106 a barrel in 2020 and $163 in 2040 in the Reference case.
– Rigzone