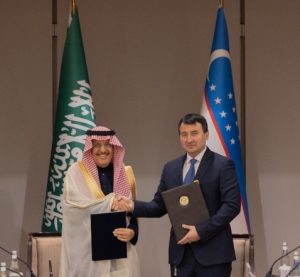 Riyadh, KSA — ACWA Power, a leading Saudi developer, investor, and operator of power generation, water desalination and green hydrogen plants worldwide, have signed the power purchase agreements (PPAs) and investment agreements (IAs) with the government of the Republic of Uzbekistan to develop the 1.5 GW Kungrad wind farm in the republic of Karakalpakstan, Uzbekistan; formerly referred to as the Karakalpakstan Wind IPP.
The wind farm shall comprise of three 500MW wind power projects owned by 3 subsidiaries, namely ACWA Power Kungrad Wind 1 LLC FE, ACWA Power Kungrad Wind 2 LLC FE and ACWA Power Kungrad Wind 3 LLC FE.
Each of the 3 projects will also incorporate a 100MW capacity battery energy storage system. Regarded as the largest single-site wind farm in Central Asia to date, and one of the largest of its kind in the world, the wind farm is expected to reach an investment value of USD 2.4 billion.
Previously, a Heads of Terms agreement signed between ACWA Power and Uzbekistan's Ministry of Energy and Ministry of Investment & Foreign Trade in August 2022 laid the foundation on which the power purchase agreements and investment agreements for the facility were to be procured.
The PPAs were signed by Rohit Gokhale, Executive Vice President, ACWA Power and Dadajon Isakulov, Chairman, National Electric Grid of Uzbekistan, JSC ("NEGU"); while the investment agreements were signed by Mohammad Abunayyan, Chairman, ACWA Power on behalf of ACWA Power, Rohit Gokhale, on behalf of the project companies, and His Excellency Jamshid Khodjaev, Deputy Prime Minister & Minister of Investment and Foreign Trade, on behalf of the Ministry of Investment and Foreign Trade (MIFT).
The agreements were signed in the presence of His Excellency Khalid Al-Falih, Minister of Investment of Saudi Arabia, His Excellency Jurabek Mirzamakhmudov, Minister of Energy, Republic of Uzbekistan, and senior executives from ACWA Power and the Government of Republic of Uzbekistan.
Located in Kungrad district, Republic of Karakalpakstan, in Uzbekistan, the wind farm is expected to offset 2.4 million tonnes of carbon emissions per year and will have minimum environmental impact due to the utilisation of the latest mitigation technologies, including bird detecting technology, that combines cutting edge technology in both image sensors and software to prevent bird collision or fatality.
The Kungrad wind farm will bolster the Uzbek government's long-term strategy to diversify the country's energy mix, which targets 8GW and 12GW of solar and wind capacity by 2026 and 2030, respectively.
Follow us on twitter