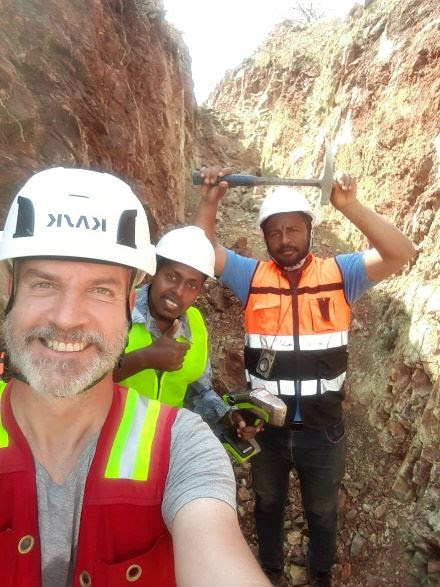 Oslo — Akobo Minerals, the Scandinavian-based Ethiopian gold exploration and boutique mining company, today announces that it has hit visible gold in its first drill hole at the third mineralisation style 140 meters from main Segele.
Following the recent announcement of the discovery of the third mineralisation style, the exploration team has continued work to understand the host structure by mapping and sampling. This work has led to three trenches being dug where the host rock was uncovered.
Following the trench work, the team developed the first drill hole which intersected 5cm of mineralisation with visible gold at 30 meters down hole depth. However, the hole also intersected an artisanal ("kofari") mining pit where 1-1.5m of potentially mineralised material had been mined in direct contact with the gold-bearing intersection.
Jørgen Evjen, CEO of Akobo Minerals, stated: "Is this the next Segele? Only time will tell. But the fact that we are hitting gold in our first drill hole is very promising. Our exploration team will follow up this target and many others in the near future. "
Following this very encouraging result, a second hole has already been started and will target the mineralisation about 5 m below the first intersection. The trenches have been examined in detail in the last few days and gives the company a good understanding of the structural geology that controls the gold mineralisation. The current drill program will be adapted to target the structures in the host lithology based on these results.
If the current drill program is successful, this mineralisation will immediately be accessible for mining and it will be a direct addition to the mine life of the Segele mine. Since the process plant and mine is already under construction the lead times from discovery to extraction can be very short, essentially mining can start as soon as the mineralisation is defined and deemed economic. The close proximity of this new discovery to the active mining area and processing plant enables a quick assessment of economic factors and possible fast-track to production.
Follow us on twitter