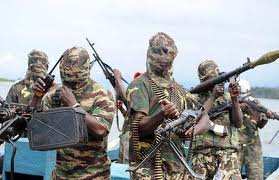 Oscarline Onwuemenyi
12 August 2017, Sweetcrude, Abuja – A militant group, the Coalition of Niger Delta Agitators, has issued an ultimatum to the Federal Government, as well as Hausas and Yorubas living in the South South region.
In a statement obtained by our correspondent, the group declared that it would begin 'operation zero oil' from September 10, 2017, in preparation for the actualization of the Niger Delta republic.
It stated that, "After hours of careful deliberations, we unanimously resolved as follows: To commence operation zero oil in the Niger Delta from September 10, 2017 as a preparation for the actualisation of Niger Delta Republic.
"We totally condemn the recent meeting between PANDEF and the Acting President; we see it as another plot to deceive the Niger Delta people. First and foremost, the meeting was marred by inordinate greed of the PANDEF as they did not involve the representatives of the agitating groups and youth leaders.
"We wish to let the Acting President know that those he met have no capacity and cannot solve the current crisis in the Niger Delta; therefore they cannot represent the militants or speak for the Niger Delta people."
The group added that, "The Federal Government should hand over all oil blocks owned by the northerners/Yoruba to Niger Delta indigenes. All oil companies operating in such oil blocks/wells should vacate by October 1st, 2017."
It also said the Nigerian National Petroleum Corporation (NNPC) should relocate its headquarters to any of the Niger Delta states and replace its Group Managing Director with an indigene of the region.
"All the multinational oil, gas, servicing and marine companies must relocate their operational base to the Niger Delta, sign a new memorandum of understanding with Niger Delta people which will include Niger Delta indigenes being paid same salaries with foreigners.
"We demand independence and sovereign Republic of Niger Delta, all the companies and businesses owned by the northerners/Yoruba in Niger Delta should be vacated before October 1, 2017."
The group congratulated the Yoruba for demanding Oduduwa Republic and wished them success.
It stated, "We hereby call on all agitating groups to resume attacks/bombings on all oil/gas pipelines, especially the exporting lines across the Niger Delta region from September 10, 2017. This is to ensure zero oil/gas production before October 1, 2017.
"We shall work to interface with more patriotic and zealous Niger Delta people to work out new collective approach that will ensure total freedom and complete control of our resources by any means necessary."
The coalition said it would fight to liberate the region from the "shackles of neo-colonialism and rule ourselves under a Niger Delta Republic, with diplomatic and economic relations with the peoples of the South-East and Middle Belt."
The groups told the Federal Government that it no longer recognized PANDEF under the present leadership, alleging that the forum was working against the interest of the Niger Delta people.