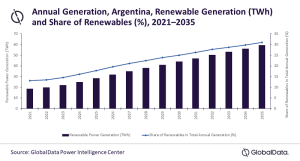 – Unless it revives its RenovAr programme
Lagos — Despite Argentina having plenty of renewable energy potential, the country has fallen short of its renewable energy target compared to other Latin American countries, says GlobalData.
According to the leading data and analytics company, the recent Russia-Ukraine conflict may be an opportunity for the government to allocate funds towards the development of renewable power to secure supply security in the long term.
Attaurrahman Ojindaram Saibasan, Power Analyst at GlobalData, comments: "Argentina has previously relied on the RenovAr program to achieve 20% renewable power by 2025. The program received an overwhelming response in the first round however, the fourth round has been stalled by the pandemic with progress being stagnant.
"The demand for non-Russian fossil fuels has benefitted Latin American countries including Argentina as European countries who have imposed sanctions on Russia are looking for another way to supply their energy grids."
GlobalData's latest report, 'Argentina Power Market Size, Trends, Regulations, Competitive Landscape and Forecast, 2022-2035', reveals that funding for renewable projects and grid constraints have been key constraints barring renewables from reaching its full potential in the country. Now is the right time for Argentina to invest on renewable power and upgrade its grid to avoid blackouts and secure more natural gas for exports. Currently, gas-based thermal accounts for nearly 60% of the country's annual generation.
Follow us on twitter