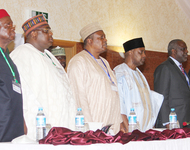 24 March 2013, Abeokuta – The Bank of Industry (BOI) and the United Nations Development Programme (UNDP) on Wednesday in Abeokuta began the training of rural dwellers from 20 local government areas of the state on how to access renewable energy.
The Ogun Commissioner for Local Government and Chieftaincy Affairs, Mr Muyiwa Oladapo, said at the opening of the session in Abeokuta that government had signed an agreement with the UNDP and BOI to empower rural dwellers.
Oladapo said the agreement was to partner with the organisations on training residents on how to access renewable energy sources and creating wealth through them.
"The scope of the partnership is to raise awareness of renewable energy technology amongst people in the state.
"Training and developing unemployed graduates and youths, women, artisans and helping potential renewable energy entrepreneurs identify the business opportunities that exist within the sector.
"Today's workshop will bring the total programme beneficiaries in the state under this partnership to 115 drawn from all relevant groups across the LGAs," he said.
While appealing to participants to make the best use of the opportunities, he commended the efforts of BOI and UNDP.
Also speaking, the state Commissioner for Commerce and Industry, Mr Abimbola Ashiru, underscored the importance of the workshop for the economic growth of the state.
Ashiru said that the workshop, in addition to ensuring access to modern energy services, would also support micro, small and medium enterprises development in the state.
The commissioner said the project would help in developing the knowledge of financial institutions, energy service providers and other relevant stakeholders to invest on renewable energy options.
"Funds would be made available to participants by BOI and UNDP as well as the state government at the end of the workshop to enable them put the acquired knowledge into practice," he said.
The three-day workshop targeted at unemployed women and artisans was jointly sponsored by the BOI, UNDP and Ogun government.
The participants are to be trained on how to make use of solar, dust and wind as sources of energy as against fire wood.
Prototypes of renewable energy cooking stoves and torchlight were exhibited at the workshop.
*NAN