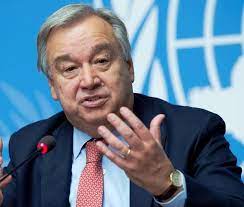 Berlin — Global climate negotiators had little specific progress to report at talks intended to prepare for this year's COP28 U.N. climate conference in Dubai, which it is hoped will get governments to embrace more ambitious steps to limit global warming to 1.5 degrees Celsius (2.7 Fahrenheit).
U.N. Secretary-General Antonio Guterres said on Thursday that countries must start phasing out oil, coal and gas – not just emissions – and demanded that fossil fuel companies "cease and desist" measures that aim to hobble progress on the issue.
Some Western governments and climate-afflicted island nations agree, but the oil-producing United Arab Emirates, host of COP28, says the talks should focus on phasing out emissions. Nevertheless, the UAE's incoming COP28 president said last week the phasedown of the fuels themselves was inevitable.
The United Nations climate change body said the Bonn talks closed on Thursday with progress on the issues of financing measures to mitigate climate change; the question of liability for the loss and damage it has caused; and funding for measures to adapt to its effects. But it did not specify what had been decided.
The meeting is seen as a mid-way check-in to prepare decisions for adoption at COP28, which begins on Nov. 30.
The landmark 2015 Paris climate agreement set a 1.5C increase in the global surface temperature as a limit for averting the most catastrophic effects of global warming in the industrial era – a threshold already close to being crossed.
The U.N. Framework Convention on Climate Change (UNFCCC) said delegates in Bonn had laid the groundwork for more ambitious action.
"From what I have seen and heard, there are bridges that can be built to realise the common ground we know exists," UNFCCC Executive Secretary Simon Stiell said late on Thursday.
But activists accused the U.S., Britain and the European Union of trying to divert discussions away from their legal accountability for climate change.
And they said rich industrialised countries were pushing developing countries to commit to measures such as expanding renewable sources of power without taking into account their inability to pay for them.
The UNFCCC said climate finance was among the topics heavily discussed in Bonn.
Environmentalists did, however, welcome new UNFCCC requirements for participants in the U.N. process to disclose their affiliation, a step aimed at curbing the influence of fossil fuel industry lobbyists.
Reporting by Riham Alkousaa; Editing by Kevin Liffey – Reuters
Follow us on twitter