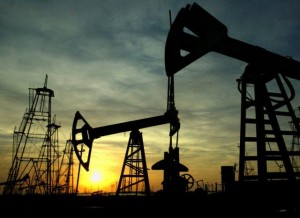 14 March 2013, London – UK's North Sea Brent crude oil futures held above $109 a barrel on Wednesday over expectations of steady growth in global oil consumption.
A surprise fall in stockpiles in the world's top oil consumer, the US, provided additional support.
The Dow Jones Industrial Average closed at yet another record to mark eight days of straight gains and the broader commodities market rose for a fourth day as investors took on more risk on hopes of a steady global recovery.
Added support for oil came as the Organisation of the Petroleum Exporting Countries, OPEC, left unchanged its consumption growth forecast for 2013.
Brent crude slipped 3 cents to $109.62 a barrel early on Wednesday, after rising to $109.80 earlier in the session. US oil increased 25 cents to $92.79, gaining for a fifth day in the longest daily winning streak since mid-December.
"Downside risks for oil seem to be very limited. If you look at equities and other markets, there is no reason to sell crude," said Tetsu Emori, a commodities fund manager at Astmax Investments in Tokyo. "I think oil prices have bottomed out and, overall, we will see a recovery."
Emori expects Brent to rise to $111 to 112 a barrel in the next few days, with WTI touching $94 to $95.
Brent remains neutral in a range of $109.14 to $111.33 per barrel, while US oil is expected to test resistance at $93.72, according to Reuters technical analyst Wang Tao.
Oil, particularly the US benchmark, was supported by a report from the American Petroleum Institute, API, that showed US crude inventories fell 1.4 million barrels last week compared with expectations of a rise of 2.3 million barrels, according to a Reuters poll. Crude stocks at Cushing, Oklahoma, dropped 597,000 barrels, gasoline inventories fell 3.1 million and distillates declined 2.2 million barrels.
Traders will now be watching for weekly stockpile data from the US Energy Information Administration, due out on Wednesday, for further insight into inventories.