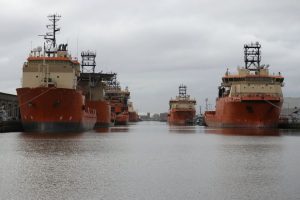 – UK commits to future North Sea licences
– UK announces new support for two CCS clusters
London — Britain on Monday committed to granting future licences for North Sea oil and gas extraction as part of efforts to become more energy independent, in plans that have drawn criticism from environmental campaigners.
Prime Minister Rishi Sunak confirmed plans for more than 100 such licences – which attracted bids earlier this year – and fresh support for two carbon capture and storage (CCS) clusters in Scotland and northern England.
He also said the government and the oil and gas regulator had committed to undertaking future licensing rounds, seeking to stem the decline of domestic production in the North Sea and reduce reliance on states such as Russia.
"We don't want to be in hock to dictators like that when it comes to our energy," Sunak told BBC Radio. "An important part of guarding against that is investing in our North Sea."
British efforts to hit net zero greenhouse gas emissions by 2050 have become a sharp dividing line between the governing Conservatives and the opposition Labour Party ahead of an election expected next year, with Sunak saying it should be met in a "pragmatic" way that does not add to household bills.
The government argues that stemming the decline in domestic supply would reduce the carbon footprint when compared with an alternative option of importing liquefied natural gas, however it is facing legal challenges from climate activists.
Sunak said the new licences were compliant with the government's environmental targets, with around a quarter of the UK's energy demand due to still be met by oil and gas when the country reaches net zero by 2050.
The North Sea Transition Authority (NSTA) regulator expects the first of the new licences to be awarded in the autumn. It is still evaluating 115 bids from producers for fields in the ongoing licensing round which closed in January.
Sunak, who will visit an energy infrastructure site in Scotland on Monday, said the new CCS clusters would also help.
support thousands of jobs, in plans welcomed by energy companies, including Shell (SHEL.L).
Britain aims to use CCS technology, which involves filtering planet-warming carbon from industrial smokestacks before it hits the atmosphere and storing it underground, to hold 20 million to 30 million tonnes of CO2 by 2030.
There currently is no large-scale or commercial CCS project operating in Britain, and the government has faced criticism for slow progress on its deployment.
*Sachin Ravikumar; Shadia Nasralla; editing: Sarah Young, Kate Holton & Sharon Singleton – Reuters
Follow us on twitter