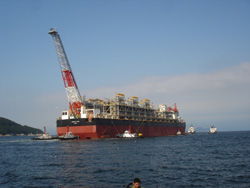 *Says 46,000 Nigerians benefit from malaria treatment since 2014
Mkpoikana Udoma
Port Harcourt — The Chairman and Managing Director, Chevron Nigeria and Mid-Africa Business Unit, Mr Rick Kennedy, says the company has invested over $60 million in Nigeria, Angola, South Africa and other countries, in the fight against malaria, tuberculosis and HIV since 2008 till date.
Kennedy specifically said Chevron, together with her JV partners in Agbami field, has constructed and equipped 28 chest clinics across Nigeria in the fight against tuberculosis.
In his message to celebrate Nigeria's 61st Independence Anniversary, he said the company was also committed in the fight against malaria in Nigeria, adding that 46,000 Nigerians have benefited from the company's free malaria treatment since 2014.
CNL's General Manager, Policy, Government and Public Affairs, Esimaje Brikinn, quoted the company's boss explaining that in addition to the social investments by NNPC/CNL JV, Chevron's deepwater operations have been exemplary in strategic investments in health across the country.
"For instance, Chevron and its parties in the Agbami field – Famfa Oil Limited, NNPC, Equinor Nigeria Energy Company Limited, and Prime 127 Nigeria Limited – have been investing in fighting tuberculosis, with the construction and equipment of chest clinics in Nigeria to support the treatment and care of tuberculosis patients in Nigeria.
"Currently 28 of such chest clinics, fully-equipped with standard X-Ray machines, male and female wards, treatment rooms, laboratories and Gene Xpert Machines have been completed across the country to support the Nigeria health system.
"Chevron and the Agbami parties' contributions to the fight against TB was recently recognized through an award presented to the parties by the wife of Nigeria's President, Dr. Mrs. Aisha Buhari."
The CNL boss said Agbami JV partners have also donated nine mother-and-child health care centers and one medical diagnostics laboratory across the country, adding that some of the donated chest clinics and mother and childcare centers were useful for COVID-19 response.
"Chevron, the largest contributor to Global Fund against HIV/AIDS, malaria and tuberculosis since January 2008, has invested $60 million in Nigeria, Angola, Indonesia, the Philippines, South Africa, Thailand, and Vietnam.
"In Nigeria, Chevron's partnership has contributed to helping more than a million people living with HIV access lifesaving antiretroviral therapy; supported efforts to distribute over one million long-lasting insecticide-treated mosquito nets to families to prevent malaria; helped detect thousands of TB cases; promoted education programs for the young, and helped build stronger health systems."
He said Chevron was also committed to the fight against malaria through initiatives such as the Roll Back Malaria programmes, Malaria in Pregnancy, Training of health workers, distribution of Intermittent Preventive Treatment and Artemisinin-based drugs, and Insecticide Treated Mosquito Nets.
"The Roll Back Malaria programmes are specifically targeted at infants, children under 5 years of age and pregnant women who have been worst hit by malaria.
"Over 46,000 people have benefitted from the malaria prevention education and or treatment since 2014."