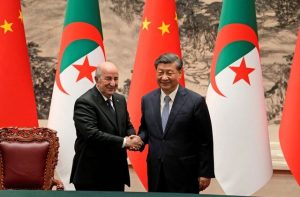 Beijing — Longtime trading partners China and Algeria agreed on Tuesday to strengthen cooperation in other areas including security and national defence, boosting Beijing's already robust ties with a major nation on the African side of the Mediterranean.
Following Algerian President Abdelmadjid Tebboune's meeting with Chinese leader Xi Jinping in Beijing, the two countries also agreed to support each other's core interests and safeguard each other's sovereignty and territorial integrity, according to a joint statement released by China's foreign ministry.
The North African nation has strategic importance to China given its location on the Mediterranean Sea. Relations between Beijing and the governing National Liberation Front go back to the late 1950s, when Algeria sought independence from France.
In 2014, the two upgraded their ties to a so-called comprehensive strategic partnership, with gas-rich Algeria the first Arab nation to form such a partnership with China.
In their statement on Tuesday, both sides agreed to deepen their comprehensive strategic partnership, stressing the need for close political and security cooperation.
China's security pacts with other nations have drawn suspicion and concern. Earlier this month, the United States, Australia and New Zealand called on the Solomon Islands prime minister to disclose details of the Pacific nation's policing deal signed with Beijing.
China and Algeria agreed to work together to fight extremist terrorist organisations within their borders, and support other countries including Somalia and Sudan in their security efforts, according to the joint statement.
Algeria, which has successfully battled domestic terrorism, has long expressed its interest in supporting its neighbours in fighting terrorism, as France, a former colonial power in the region, retreated from regional counter-terrorism efforts.
Tebboune, on his first visit to China since becoming president in 2019, said Algeria is also willing to deepen its partnership with China to assist his country's economic development.
Tebboune visited Beijing after a state visit to Russia last month, during which he appealed to Russian President Vladimir Putin to support Algeria becoming a member of BRICS, a group of emerging markets comprising Brazil, Russia, India, China and South Africa.
China welcomes Algeria's desire to join BRICS and supports its efforts to achieve the goal, according to their statement.
Xi said both sides will also cooperate in aerospace, infrastructure, nuclear energy, petrochemicals, and renewable energy.
"The two countries have helped each other through thick and thin," Xi said.
Reporting by Ryan Woo, Bernard Orr, Ella Cao and Joe Cash; Editing by Chizu Nomiyama and Bernadette Baum
Follow us on twitter