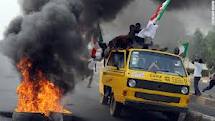 Innocent Anaba
23 August 2012, Sweetcrude, LAGOS – CIVIL Liberties Organisation, CLO, has warned the Nigerian government, not to allow the planned nationwide strike by National Union of Petroleum and Natural Gas Workers, NUPENG, to protest government's disrespect for the agreement it signed with the union to take place.
CLO also called on the Inspector General of Police, Mr. Mohammed Abubakar, to order without delay the arrest and prosecution of all those who were involved in the brutalisation of journalists at the Lagos State University Teaching Hospital, LASUTH, Ikeja, Lagos, rejecting totally, claims by the Lagos State Police Command that the culprits could not be found and that they were resolving the case amicably.
CLO, in a statement by its Executive Director, Mr. Ibuchukwu Ezike, in Lagos, said: "It is worrisome that despite the trillions of naira wasted by the government on the non-existent oil subsidy, it cannot pay NUPENG members, whereas their colleagues have been paid.
"We condemn in very strong terms, the selective payment of the subsidies to the recipients and urge the government to do anything practically possible to comply with the demands of NUPENG to avert further suffering and exploitation of the masses.
"We welcome NUPENG's planned industrial action in the event government refuses to pay their subsidies and enjoin them to do anything lawful to ensure that their genuine demands were met.
"We salute the courage of NUPENG to continue its industrial action to get the government to respect the terms of the said agreement, which includes but is not limited to putting our existing refineries to effective use and building of new ones, repairing death trap roads across the country, payment of subsidies to its members and continued casualisation of workers in the sector, all aimed at reducing corruption and correctly fixing Nigeria for the good of all.
"We totally support the action of NUPENG and urge its leaders not to back down on its members' demands till they are fully implemented by the government."