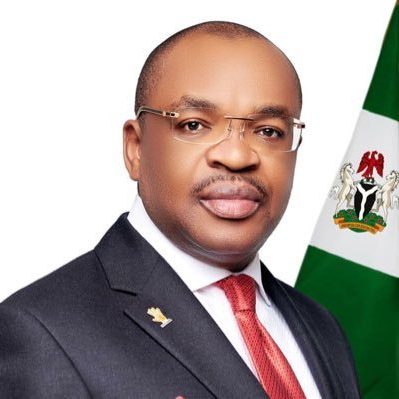 Mkpoikana Udoma
Port Harcourt — Akwa Ibom State Governor, Udom Emmanuel, has hinted that the ground breaking for the $1.4billion OCP petrochemical and ammonia plant in the state is expected soon.
Recall that the state government, the Minister of State for Petroleum Resources, Chief Timipre Sylva and the government of Morroco, earlier in March this year, signed an MoU for the establishment of a $1.4billion ammonia and phosphate fertilizer production plant in Ikot Abasi LGA of the state.
The MoU agreement between OCP Africa of Morocco, the Nigerian Sovereign Investment Authority and Akwa Ibom State Government, is expected to birth one of the biggest investments in the fertilizer production industry worldwide.
The governor speaking on the occasion of the state's 34th anniversary, also said his administration was focused on providing electricity for all before the year runs out, while commending the federal government for approval for the commencement of Ibom deep seaport project.
Udom said the state has attracted FDIs such as the syringes manufacturing company, flour mill, prepaid meter company, coconut refinery, airline, ricemill, plywood company etc, as a result of investment in infrastructure such as roads, power, and the ease of traveling either by road and air.
"Our passionate dedication to upgrading our infrastructure and thus make it easier for us to execute our industrialization agenda has seen us invest heavily in the power sector through the upgrading of existing substations and building new ones across the State, and it is a known fact that most parts of this State currently enjoy stable electricity.
"We remain focussed in our efforts to provide power for all, by 2021, all things being equal.
"The ground-breaking ceremony of the OCP $1.4 billion petrochemical and ammonia plant in Ikot Abasi is expected to be performed soon. Similar one was earlier this year, performed in Eastern Obolo.
"We would not have been able to attract all these industries, if we did not create the enabling environment for investors to come and invest and we should be all proud of our efforts and celebrate our ascendance as a fast industrializing State.
"We remain grateful for approval given to us to commence work on our Ibom Deep Seaport and I urge the stakeholders in the communities the project is sited to rise above primordial attachments and see the potentials for economic growth this project will engender."
Governor Udom expressed optimism that with the commissioning of the 21storey smart building in the state by Vice President Yemi Osinbajo recently, oil companies operating in the state will relocate their headquarters to the state.
"By the grace of God, the Vice President, Professor Yemi Osinbajo, SAN, has help commissioned our 21 storey Dakkada Tower, the most intelligent and smart building in the Nation, as our former President, Olusegun Obasanjo once described it.
"We have constructed this edifice as a mark of our growth as a leading oil and gas producer in the Nation, and are hopeful that the International Oil Companies will take advantage of the building and move their operations to our State."