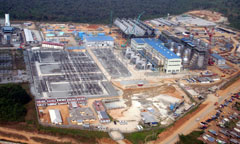 30 March 2012, Sweetcrude, LAGOS – Contractors handling projects in Nigeria's National Integrated Power Projects (NIPP) have raised the alarm over delay in the clearance of equipment meant for the projects.
The contractors, under the umbrella of Electric Power Foundation of Nigeria, are also concern by the auctioning by the Nigeria Customs of the imported equipment for the project.
Disclosing this in Lagos, chairman of the Electric Power Foundation, Mr. Otis Anyaeji, said these, in addition to the problem ofgas and other logistic problems were negatively affecting government's desire to improve poer supply nationwide.
Anyaeji, who spoke at the 2nd Worldstage National Power Conference, maintained that security agents delay the movement of the equipment on the roads.
As conceptualised by the Federal Government, the IPP projects are add about 5000 megawatts to the national grid, country's power supply.
The former secretary general of the Nigerian Society of Engimeers, said in his paper, entitled, "Achieving Presidential Action Committee on Power Mandate: Contractors Input", that the delay in clearing imported equipment was aggravated by multiple government agencies working at cross purposes at the ports.
Anyaeji, who is also the Chairman of the Institute of Appraisers and Cost Engineers, stated that the delay in clearing imported equipment at the ports had resulted in the delay in delivery of equipment to project sites, higher project costs, time slippages and non-availability of electricity to Nigerians.