Lagos — With its brand value up 16% to USD31.9 billion, CSCEC has retained its position as the most valuable brand in the global Engineering & Construction sector, according to a new analysis by the world's leading brand valuation consultancy, Brand Finance.
As one of the largest construction companies in the world by revenue, the China State Construction Engineering Corporation saw another year of brand value growth post-pandemic.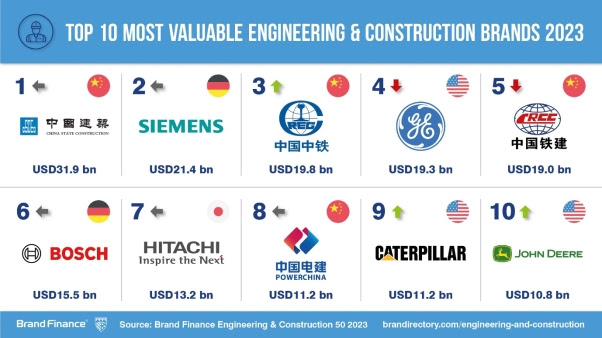 Every year, leading brand valuation consultancy Brand Finance puts 5,000 of the biggest brands to the test, and publishes over 100 reports, ranking brands across all sectors and countries.
The world's top 50 most valuable and strongest Engineering & Construction brands are included in the annual Brand Finance Engineering & Construction 50 2023 ranking.
CSCEC's brand value increase is a direct result of improved business performance, as well as an improved Brand Strength Index (BSI) score of 76.4 out of 100 and corresponding AA+ rating. Annual performance indicators saw significant year-on-year growth, including revenue and new construction contracts.
In 2022, CSCEC delivered 28 venues and auxiliary projects for the Beijing Winter Olympics. The brand's ability to deliver high quality projects, and operation and maintenance plans, has positively contributed to CSCEC's brand recognition.
"Generally, Chinese Engineering & Construction brands continue to grow. These brands, however, are now faced with new expectations of sustainability. Now that the Chinese government has announced its 5-year plan for the Engineering & Construction industry, these brands will need to adapt and integrate sustainability into their core strategies to maintain brand value and strength," Richard Haigh, Managing Director of Brand Finance said.
On the ESG front, the Chinese government announced a five-year plan for a smarter, greener, and safer Engineering & Construction sector in a bid to reducing carbon emissions, adopting digital technologies and improving the safety and quality of buildings.
In response, Engineering & Construction brands have adopted various measures in line with an increasing focus on sustainability.
CNBM (brand value up 7% to USD8.9 billion), the largest cement and concrete brand in China, implemented its Dual Carbon Goals aimed at advancing green development and low-carbon technology, as well as leading green and intelligent transformation of the cement industry.
Follow us on twitter